Oil rises on chance of output cuts as producers to meet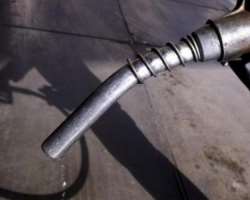 A worker grabs a nozzle at a petrol station in Tehran, Iran January 25, 2016.
REUTERS/RAHEB HOMAVANDI/TIMA
Oil prices surged to their highest levels in more than a week as news of a meeting of top officials from the world's biggest oil producers spurred speculation of an eventual deal to tackle a deep supply glut.
U.S. crude CLc1 was up $1.43 at $30.87 by 0330 GMT as the market reopened following a shortened holiday session. The contract rose by as much as $1.50, or 5.1 percent, to $30.94, the highest since Feb. 8, building on Friday's more than 12 percent surge.
Brent crude for April delivery LCOc1 was up $1.21 at $34.60 a barrel. It rose as high as $34.72, the highest level since Feb. 5, after rising 11 percent on Friday.
The world's top two oil exporters, Saudi Arabia and Russia, will hold talks together with their counterparts from Venezuela and Qatar in Doha on Tuesday, sources told Reuters.
The meeting is the latest effort by some members of the Organization of Petroleum Exporting Countries to join with non-OPEC producers in curtailing output. By cutting back production, they hope to reduce the existing supply glut that has pushed prices to the lowest in more than a decade.
Analysts remain cautious, however, that the meeting will result in an agreement.
"As much as we continue to believe that this is yet another meeting that would yield nothing, the markets remain wary of any sudden agreement that major oil producers could come to," said Daniel Ang, an analyst at Phillip Futures in Singapore.
Oil has dropped over the past year due to booming U.S. supplies and OPEC's decision, led by the group's biggest producer Saudi Arabia, to ramp up exports and drive higher-cost producers out of the market.
Saudi Arabia has said it would cut output only if non-OPEC producers agreed to join it.
Russia, the world's top producer, has long refused to cooperate, saying its industry was competitive at any price and it was technically challenging for Moscow to reduce production.
Still, U.S. crude prices may come under pressure as oil inventories remain close to record levels and U.S. refiners are cutting back their processing runs on falling profit margins, which could lead to more oil going into storage.
WTI may fall to below $20 a barrel as a drop in U.S. crude demand outweighs cutbacks in production as domestic producers shut wells, BMI Research said in a note.
"An inflection point is being reached, whereby the decline in U.S. crude demand may outstrip the pullback in production," BMI said. "Under this scenario, storage capacity in the U.S. would be breached and WTI prices would collapse to below USD20.0/bbl."