GENDER EQUITY KEY TO NATIONAL DEVELOPMENT –FG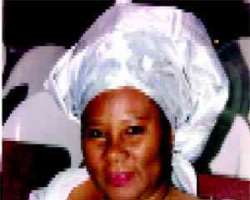 Josephine Anenih
The Minister of Women Affairs, Mrs. Josephine Anenih, on Thursday said gender equity must be promoted for Nigeria to enjoy meaningful development.
Anenih said this in an address she presented at a one-day Independent National Electoral Commission/political parties roundtable in Abuja.
The roundtable which had the theme: 'Setting Gender in Nigeria's Political Agenda' was organised at the behest of the Electoral Institute.
The minister expressed regret that 10 years after Nigeria returned to democratic rule, women who constitute the greater percentage of the population were still lagging behind in mainstream politics.
According to her, 'Nigeria has witnessed three democratic elections: in 1999, 2003 and 2007.
'Yet, participation in politics at the three tiers of government; that is, the local, state and federal, is still a male-dominated affair in spite of long standing efforts by women to effectively participate in politics and in governance.
'Their involvement falls short of the 35 per cent affirmative action, due to poor funding as well as socio-cultural beliefs and other forms of inhibitions.'
She recalled that only a few women emerged as local council chairmen or councillors in 1999 while only Lagos had a woman as deputy governor.
Earlier, in a keynote address read on his behalf by the Secretary of the Independent National Electoral Commission, Mr. Abdulahi Kaugama, INEC Chairman, Prof. Mauraice Iwu, called for reforms.
He said, 'Gender parity has been proved to be both a development indicator and a development objective in its right. This informs the role-significance of gender goals in the overall MDGs.'
Iwu said various countries were taking concrete steps and initiatives to close the gap in politics and access to leadership.
This, he said, had revealed a hitherto less acknowledged fact that more women in key positions had been proven to lead to better outcomes.
Also speaking on the occasion, the Chairman, Senate Committee on Women Affairs, Senator Eme Ufot-Ekaette, enjoined political parties to alter their constitutions to make provision for affirmative action.
This, she said, would go a long way in ensuring that both men and women were given a level playing field to make meaningful contributions to national development.