Hustling For Survival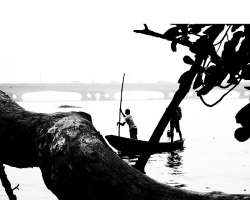 Here are two boys. No! They are men, young men; local artisanal fishermen on fishing expedition. They are hardworking Nigerians, not criminals, in disagreement to the demeaning declaration by the President of their Nation. Photographed at the Lagoon Front Resort, located at the tail end of the 'University of Lagos' Campus, Akoka, Lagos, Nigeria. To them, street bandits are less human, and arms' begging is not an option to consider to making ends meet.
In a nation with low standard of living courtesy of a crumbled economy, they wake up daily to see poverty walking on stilts at their filthy Makoko slum where poverty is prevalent, and with a high degree of vulnerability to epidemics and natural disaster. Rather than sitting idle or joining the league of dreadful Lagos streets bandits to loot shops and extort innocent citizens, through traditional fishing, a crude method which is time consuming and requires efforts that burns up valuable calories, inside a wearing canoe on a lagoon, with string lines, wire, gorge hooks, and baits, they fish for survival, sustenance and self sufficiency, daily in dangerous conditions with tortuously long hours. They wade out into the lagoon for big catches; throws themselves overboard to their deaths as their only means of escape from poverty. It is not their pacts with life, but in their path for survival.
They have no cargo pants, rainwear, collared flannel shirts and zip-up waterproof, life jackets that could deliver to them a lightweight fit and weather-resistant durability, and easy to layer, for pleasing acclimatization to anything Mother Nature throws their way. They couldn't afford fishing clothing designed with ultraviolet rays' protection from sunburn, overheating and overexposure to the sun, or that of antimicrobial and spill technology that prevents the growth of odour-causing bacteria and ward off blood-and-guts stains respectively; and moisture-wicking liner that works to lift perspiration from skin for a cool, dry feeling that lasts all day. They've got no lined, padded trousers, wide-brimmed hats or baseball cap, lightweight sandals, stocking or boot foot wader, form-fitting, fleece fingerless or built-in Ultraviolet Protection Factor gloves for them to have easy control over their lines and vest to carry baits, lures and hooks with ease. No sweatproof sunscreen, costa rock-sport sunglasses and facemasks.
Yet, they hustle, like Lagosians will place it, to make the barest minimum to feed themselves and their families. Like every other parent, theirs want them to lead and live a better life than themselves, they want to see them enrolled in school but couldn't afford the expenditures of the families, not to talk of meeting the costs of their education. Thus, they (these fishermen) play the role of a "breadwinner". Though troubled, dejected, disappointed and deprived of basic education by the society they had thought would place them on glorious high horses, they navigate through refreshing but stormy water of life and strive to survive against all odds.
The breeze at the lagoon might be cool and refreshing, and the scenery might be fascinating and idyllic, these men have little or no peace of mind, for they're in a Nation where peace seems to be elusive due to the virtual collapse of the security system which is rendering the Nigerian society peace-less and gradually paving way for anarchy and confusion escalating by the day, with condemned militant groups, offshoots of religious and political sectionalism, and ethnic bigotry unleashing terror in daylight.
In their daily expedition, they look onto the bridge, the Third Mainland Bridge, reputed to be the longest in West Africa; they see fanciful vehicles of different sizes and shapes as they speed by, taking their peers to school and returning them back home. Their spirits sinks for they desire what their peers born with silver spoons enjoy, but their dream lights up; it wants them to work hard and harder. Rather than complaining about the kind of trade their lives had given unto them, with no hope of escaping from daily life of drudgery and monotony, deep in their hearts, they harbor dreams that goes beyond fishing. Remember, they are human beings like you and they have aspirations and dreams just like you do. They desire, and in forthrightness, they deserve the opportunity to have a good life, and the chance to realize their potentials, to make their dreams a reality. They desire a better life in a better Nigeria.
They live the day at it come, struggle for survival on troubled water, and amidst difficulties, they paddle to stay afloat. Here they are, making fun and the best out of life while they wish their dreams become a reality before sailing to the next great adventure, and being entrapped by the fishing net and snare of that heartless friend of humanity- DEATH! The price every mortal must pay!
While they hunt to have fish for food, death fish to have them for food. They are innocent young men, hustling to feed their bellies, and fill their empty pockets with paltry Naira's. Nonetheless, death stares at them- at their innocent faces, from afar; and in patience, set to take away the next victims, tells the man paddling to steer them both away from LIFE- a continuous system where mortality reigns. And gradually, Life, which is the long bridge, gradually fades away, disappears into the distance. Life is but what you make out of it. For a fact, the man's life apart from being very transitory is also pronouncedly ephemeral.
Oluwatomilola Boyinde, A Young Nigerian Artist- Graphic Designer, Documentary Photographer, Photojournalist, Photo Analyst & Columnist. Publisher & Editor of www.masterpiz.com – Nigerian Art Online Community. Instagram @boyindeoluwatomilola.
Disclaimer:

"The views/contents expressed in this article are the sole responsibility of the author(s) and do not necessarily reflect those of The Nigerian Voice. The Nigerian Voice will not be responsible or liable for any inaccurate or incorrect statements contained in this article."