Bishop Umunna Foundation Hosts Sports/Cultural Carnival For Ajegunle Kids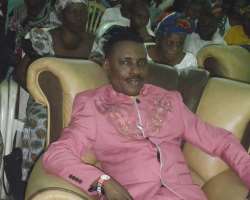 Bishop (Prof) Leonard Umunna,the Presiding Bishop of Bible Life Church Cathedral, recently hosted sports and cultural carnival for Ajegunle kids to mark Valentine day.
According to Bishop Leonard Umunna said, I set up this Professor Leonard Umunna Foundation (PLUF) to reward Ajegunle talented kids at sports and cultural carnival. It is fast-becoming a great problem in Nigeria that our kids are gradually losing interest in cultural values which this foundation has taken upon itself to use Valentine day to discover and enlighten young talents for Christ.
We extended our invitations to all private schools in Ajegunle to participate in this annual sport and cultural carnival and many honored it. This event is personally sponsored by me and my church members. I want to thank these following participated schools like Bona, Lord Cares, Extra Real, Gentle Dove, Deep Fountain, Happy Field, Jodeb, Grapet, Zion Gate, Solid Foundation and Victorious school for gracing this God's ordained event.
Adding that this competition is not the end of life if you lose today, but what matters is your determination to work hard to fulfill God's purpose in life. You must be a good advert in your competition, reading his scriptural verse from Exodus 18:22 said life is all impacting your world with your vision. Sports officials should also give accurate scores to know real winners without bias. It is capital- intensive to sponsor this event on Valentine day, anything God is involved, result is always the answer. This year competition remains one of the best in this noble foundation of mine.
The Chairman of the occasion, Mr.kingsley Obinwane said, Bishop Leonard Umunna remains a great man of God that has love for the downtrodden without thinking about himself alone. I want all kids' presence here to take advantage of developing their talents for God in order to succeed in life. God will continue to protect Bishop Umunna for us on earth, he said.
Sports activities like Egg on the spoon, Picking the balls, Filling of water in the bottle, sack race, Bur sting balloon, Costume parade and Modern costume parade,50m race, Match past parade,100m race,200m race and Football competition. This competition was between male and female kids. At the end of the football competition, Happy Field Nursery and Primary school emerged winner followed by other schools like Extra Real, Bona, Lord Cares and Gentle Dove winning other games of the event. Guests were entertained with light refreshment while Bishop Leonard Umunna presented gifts and certificates to winners of the competition.
Disclaimer:

"The views/contents expressed in this article are the sole responsibility of the author(s) and do not necessarily reflect those of The Nigerian Voice. The Nigerian Voice will not be responsible or liable for any inaccurate or incorrect statements contained in this article."
Articles by Godday Odidi