Boko Haram: FG, World Bank, others end mission to Northeast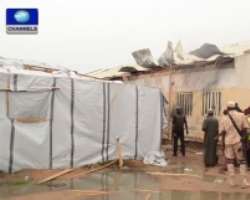 The Federal Government, the World Bank, European Union, and the United Nations have concluded a two-week recovery and assessment mission in the Northeast region ravaged by Boko Haram insurgency.
The mission was part of ongoing Recovery and Peace Building Assessment (RPBA) programme initiated by the global agencies.
Led by the Senior Special Assistant to the President on Internally Displaced Persons (IDPs), Dr. Mariam Masha, the recovery and assessment team visited Adamawa, Taraba, Gombe, Bauchi, Borno and Yobe States.
A statement issued by the Senior Special Assistant on Media and Publicity to the Vice President, Laolu Akande, said during the visits, the team actively engaged with state governors, decision-makers as well as top government functionaries, civil society organizations, private sector players, traditional rulers, the Internally Displaced Persons (IDPs), emergency management agencies, humanitarian and relief agencies and other active partners in the recovery efforts in the affected states.
The statement said: 'In the course of the tour in the affected areas, the team of officials visited several camps and resettlement centres for the IDPs in the different states as well as insurgency -ravaged public institutions like hospitals, markets and military formations.
'The team also gained first hand knowledge of human and physical conditions in the camps and resettlement centres affording them the opportunity to empathize with the people and also reassured them of the commitment of the Buhari administration towards addressing their challenges.
'In furtherance of the importance of the recovery and assessment mission, the team's top level engagements with relevant stakeholders centred on sector recovery and needs assessment strategy in the three major components of Infrastructure and social services, peace building, stability and social cohesion as well as the economic recovery of the affected people in the six states.' The Nation