Khloe Kardashian, Lamar Odom attend Kanye West's fashion show together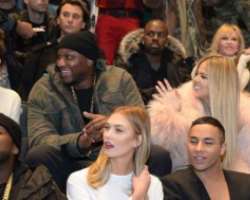 Khloe Kardashian and Lamar Odom were all smiles on Thursday.
Khloe and her ex stepped out for Kanye West's album release party and Yeezy Season 3 fashion show at Madison Square Garden and the two looked cozy and content as they sat together in the audience.The 36-year-old former NBA star looked healthy and happy in his first public appearance since being released from Cedars-Sinai Medical Center in Los Angeles almost a month ago. He's since been continuing his recovery at a facility near Khloe's home in Calabasas, California.
Getty Images
Lamar kept things casual in a long camo jacket and black shirt while Khloe classed things up in a beige, curve-hugging jumpsuit and a luxuriously furry, pink coat.
Getty Images
"Kanye invited him to come, and it's a big deal for him to be able to come," Kris Jenner shared with ET before the big event. "I'm excited. For him to have this, you know, this is a milestone for him to be able to travel. So, baby steps. But this is a big one. This is a huge step for him."
From looking at Lamar and Khloe together at the fashion show, it's hard to imagine the athlete was clinging to life just months ago. From his smile to his presence with the Kardashian family, Lamar appeared as healthy as ever.