Cattle Rustlers Invade Adamawa Villages And Made Away With Over 1000 Cows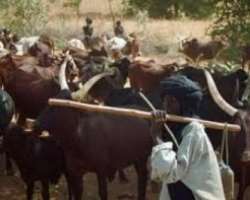 Cattles Rustlers suspected to be members of Boko Haram have stolen over 1000 cows, 70 sheep and 40 goats in Madagali local Government area of Adamawa state.
Eyewitness accounts revealed that the rustlers, about 30 in number and well - armed, invaded Madagali settlement at about 10 am on the broad day light on Friday and carted away the animals.
The eyewitness stated that the stolen cattle feet were traced by locals of the affected area into Sambisa forest and could not go further for the fear of being killed by the members of the Boko Haram insurgency who they alleged are still in control of some parts of the forest.
Confirming the incident, the village head of Krichinga, Abubakar Kanuri said some rustlers invaded their homes and carted away over 1000 cows belonging to villagers.
He said the rustlers were well-armed but did not hurt anyone adding that they only carted away cattle which were traced by villagers into Sambisa forest but turned back home for the fear of Boko Haram.
According to him, the matter has been reported to the military Manning the area as he further lamented that the incident was becoming rampant in the areas and called on Federal Government to step up security in the area.
Kanuri lamented that the incident has impoverished some villagers who worked very hard to rear those animals and condemned the act in strong terms.
He said, that he suspected that the cattle were stolen by members of Boko Haram, who may have run short of food and money as he claimed that the insurgents could sell the animals to make money.
One of the villagers whose cattle was stolen, Mallam Saleh lamented that the rustlers who he suspected were members of Boko Haram insurgency invaded his home at about 10am and carted away 100 cows and 50 sheep.
Saleh said that nine of his colleagues were affected too as the rustlers also carted away over 900 cows, 20 sheep and 40 goats belonging to them, making the total of over 1000 cows stolen by invaders.
He said, they went round their house and after gathering the cattle, they left with the cattle into Sambisa forest.
He said they couldn't do anything because the invaders were well - armed and were threatening them with their guns, adding that they trailed them to Sambisa forest thinking that they could get help.
However, attempts to get the military authority to comment on the incident proved abortive.