Mike Tyson forks out $2.5m for new Las Vegas home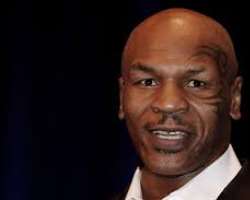 Mike Tyson is racking up homes along one Las Vegas street the way he used to collect heavyweight titles.
The vicious-boxer-turned-jokey-entertainer just forked out $2.5 million for a 10,400-square-foot mansion a short walk from his current home in a suburban golf course community.
The 6-bedroom, 6.5-bath Mediterranean-style villa  has all the pomp and luxury you'd expect in a Vegas mansion, including a grand piano in the chandeliered marble foyer.
An open floor plan on the first level combines an expansive kitchen with a casual eating area and a family room with a wet bar big enough to deliver a punch. For knockout events, there's a grand dining room and a great room with an ornate fireplace.
The massive master bath features lots of mirrors where Tyson can check out his facial tattoo, and a hot tub looking out onto a wide deck and the backyard swimming pool and spa.
Lest you worry that Tyson has bitten off more than he can chew, listing agent Ken Lowman from Luxury Homes of Las Vegas  said he plans to list the champ's smaller house down the street.
The former heavyweight boxing champion of the world, who has lived in Las Vegas for about 30 years, seems to be climbing back up the ladder of success after a decade of financial and legal woes. This fall, he was in the news for his second season of "Scooby-Doo"-style intrigue on the animated "Mike Tyson Mysteries" (12:15 a.m. Sunday, Adult Swim).
"When you think about it and put it in perspective," Tyson told Las Vegas Review-Journal's Christopher Lawrence last year, "when I was 'Mike Tyson' in the '80s, and I was this heavyweight champ guy — biggest, toughest guy, $20-million fights — comic books wouldn't touch me with a million-foot pole. Any kind of comics or cartoons. And to think I'm doing it at this point in my life is just so refreshing."
Zillow/ Las Vegas Review Journal