How the would-be female suicide bomber bulked, surrendered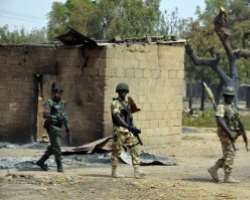 A would-be suicide bomber who refused to detonate her explosives in northeast Nigeria was identified as she tried to flee because of her distinctive hairstyle, a military officer said on Friday.
The officer, who was at the camp for displaced people in Dikwa, Borno state, when two other women blew themselves up on Tuesday, killing 58, said the third was spotted as she tried to leave.
"The Kanuri women are known for plaiting their hair but we realised over time from the bodies of female suicide bombers that they all had ponytails," he told AFP on condition of anonymity.
"Based on that we came to the conclusion, after a thorough investigation and the testimonies from female bombers arrested alive, that before going on suicide bombing they are made to wear a ponytail because in Kanuri traditions when a woman dies before she is buried her hair is loosened and made in to a ponytail.
"Because they (Boko Haram) assume these women would never return when sent on the suicide mission, they are given that ritual before they go out.
"So, when we saw her fleeing the camp with a ponytail, we just knew she was one of the bombers, so we arrested her and she confessed."
Many women wear a long hijab covering their head in the Muslim-majority north but the officer, who was involved in the arrest, said hers had slipped in the panicked aftermath.
The carnage at the camp, which houses more than 50,000 people who have fled nearly seven years of violence in the region, was the latest in a string of attacks against civilian targets.
View gallery

Soldiers and policemen walk past burnt houses on February 4, 2016 during a visit to the village of D …
Boko Haram, which is composed mainly of the ethnic Kanuri group indigenous to the region, has increasingly used suicide bombers, including young children, in its campaign to create a hardline Islamic state in northeast Nigeria.
– Kidnap victim –
Satomi Ahmed, of the Borno state emergency management agency, told AFP the failed bomber decided against detonating her explosives after realising her parents were staying there.
Ahmed, who viewed her interrogation video, said she told investigators she was kidnapped by Boko Haram when they took over her village of Boboshe, near Dikwa.
"She was turned into a sex slave. She and four other girls were picked and detailed to carry out attacks on the camp (in Dikwa). Apparently they (Boko Haram) were tired of her," he added.
"She already knew that her parents were apparently in the camp. They left Boboshe towards the camp in Dikwa. Three of them were sent as the first batch of bombers to the camp.
"When they arrived at the camp, she quickly moved away from the other two because she knew they were carrying explosives. When they exploded, she tried to flee the camp."
Ahmed said the girl did not reveal when she was kidnapped but told them Boko Haram did not send out recently seized women and girls to be human bombs, indicating she had been held for some time.
Boko Haram's continued attacks in the region come despite the government's insistence it has "technically" defeated the Islamic State group affiliate.
Ahmed said fighters attacked Shuwarin village, about 25 kilometres (16 miles) outside the Borno state capital, Maiduguri, at about 10:30 pm (2130 GMT) on Wednesday.
"They killed four people and burnt 21 homes. Residents fled into the bush," he added.
"We got the story this morning and when we arrived we found they had already buried one body and were preparing for the burial of three others.
"But we took the bodies to the hospital here (in Maiduguri)."
The Nigerian Army meanwhile said it had cleared and released 275 detainees, including 50 children, two from Niger and two from Cameroon, suspected of involvement in "terrorism or insurgency".