Kate Henshaw is unworried about what comes her way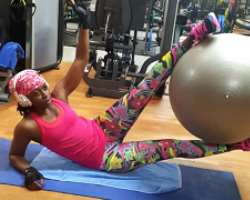 When one is healthy, you don't need too much experience to sight it. Awarding winning Nollywood actress Kate Henshaw whose marriage crashed some years ago moved on with her life without living in her past.
Though in her closet, there could be some sad moments, but that is not what she presents to the world to see. The actress has been spending some time in the Gym recently working out.
Some fans cautioned her to slow down with the kind of work out she was engaging in , however the actress has taken her time to get into shape.
Her perseverance has yielded a good result, as she is looking radiant in this photo above. The love she has for herself is priceless, health is wealth, and there is no doubt she looks amazingly beautiful.