Reps discover lnvestment and Securities Tribunal replicated 2015 budget for 2016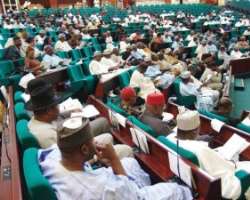 The house of representative has made a discovery that the 2016 budget proposal for the Investment and Securities Tribunal (IST) is the same as that of its 2015 version. As a result, a meeting has been convened between the Ministry of Finance and a joint committee of the Senate and House of Representatives on House Standing Committee Capital Market and Other Institutions.
The chairman of the committee, Tajudeen Yusuf, disclosed this on Thursday, after the committee called off the budget defence exercise of the tribunal.
Addressing journalists thereafter, Yusuf expressed disappointment at the budget office over the 2016 budget estimates of the tribunal which was presented before the committee while lamenting that the tribunal's budget was a duplicate of the 2015 budget version.
"We were due to look at the budget of the IST, but found out that what is contained in the 2016 budget proposal is just the exact copy of the 2015 budget appropriation. Items that have been dealt with in 2015 were repeated. The 2016 proposal cannot be considered at all," he said.
Yusuf, while expressing displeasure over the development, said that the committee was left with no choice but to call off the defence session. On the way forward, the lawmaker said that there will be a tripartite meeting between the Senate and House of Representatives committees on capital market.
"This committee and the Senate committee will have to hold a tripartite meeting as they too are aware of this. The Ministry of Finance will be part of that meeting so that we can ask relevant questions and find a way out. As it is, we have to appropriate for them; it is now our responsibility," he added.