Ajulo Petitions DSS Over Invasion Of Traditional Ruler's Home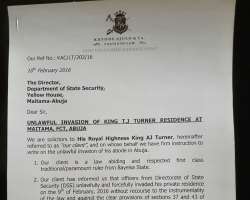 An Abuja based Lawyer and Human Right Activist, Barrister Kayode Ajulo has petitioned the Director General of the Department of State Services DSS, over what He described as the "Unlawful Invasion" of the House of a Traditional Ruler in Bayelsa Sate, King AJ Turner.
Ajulo in the petition, copies of which were made available to newsmen in Abuja alleged that the men of the DSS, had on the 9th of February 2016, unlawfully and forcefully invaded the Maitama Abuja residence of the Traditional ruler, without recourse to the instrumentality of the Law, and against clear provisions of Section 37 and 43 of the 1999 Constitution of the Federal Republic of Nigeria (as amended).
Ajulo described the incident as so disturbing to his client, particularly when there is no allegation that warrants, the invasion by the officers from the DSS.
The Activist Lawyer therefore demanded from the DSS, full explanation as to the lawfulness of the invasion of the Home of the Traditional ruler within seven days, as he declared that he will not hesitate to approach the court, to seek redress for the violation of the rights of King AJ Turner.
AJULO2