Senator Ali Ndume On Boko Haram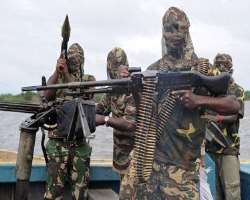 The Senate Majority Leader, Senator Ali Ndume, has said that the National Assembly is on "the same page" with the executive arm of government in the war against Boko Haram as legislators are willing to ensure that needed funds to prosecute the war are made available to the military.
Ndume, who spoke to journalists in Maiduguri, said the nation is however presently bedeviled with dwindling revenue which has affected the pace of the war effort on the insurgents.
He said: "We are working with the executive, this time around. The government has changed. We that have majority are in the same party with executive and we are on the same page.
"First, when we came on board we discovered there were shortfalls that needed attention in order to improve the performance of our military, we found out that we needed to boost their morale especially by paying their daily allowances."
He said the Senate worked with the executives to ensure that the supplementary bill brought by the president in 2015 was passed and that there was something for Operation Lafiya Dole to prosecute the war on insurgency and approval was given for the N5 billion that was for the support of the Victims Support Fund.
He added that the Senate went a step further by following up to the Ministry of Finance in pushing for the releases of these funds to prosecute the war on insurgency.
The Senate Leader said: "Even in the current budget, we have decided to provide for the military whatever they need to prosecute this war. We have asked questions whether there are specific provisions for prosecuting this war in the present budget and we got positive answers. We were not totally satisfied with it and insisted that the provision going into the prosecution of the war should not be lumped together and that it should be under one heading."
Ndume while promising that everything that is needed to win the ongoing war on the Boko Haram, the National Assembly was ready to contribute its quota, lamented that: "The unfortunate thing we are facing in this country today which all of you should know is that the money we had was stolen and now we have no money. So we are in big dilemma.
"The oil revenue that we depend on to finance about 90 percent of our economy has it's price dropped drastically and our financial reserves have been depleted by the last administration and Nigeria is now just struggling to manage the little crumbs and that is the main challenge."
He said: "If we have the money or money was left by the previous government for this government to take up with. Nigeria would have been at the next stage and not at the stage we are now."