Police Arrest 5 over N7 billion Fraud in Delta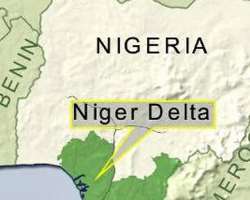 Five persons are currently cooling their heels at the detention cells of the Delta State Police Command headquarters, Asaba, the state capital, following attempt to defraud the state government of about N7 billion.
It was learnt that the suspects, a syndicate group, were at the verge of withdrawing about N7 billion from the state treasury when they met their waterloo.
It was reliably gathered that the suspects are currently telling the police detectives all they know about the plot to fleece the Delta State government of such large sums of money, their various role, and those who are involved in the crime.
Confirming the development, the state police commissioner, Usman Baba Alkhali told our correspondent, "I may not be able to disclosed to you the number of arrest we have made, or our level of investigation on the matter as revealing such information might jeopardize our efforts, but all I can tell you is that we have made some arrest and we are getting to the root of the matter".
Meanwhile, The state Commissioner of Finance, Olorogun David Edevbie , at a press briefing in Asaba said the development temporally caused an upset in the government system occasioning a slit delay in the payment of 2016 January salary in the state.
He said, "Delta state university, the polytechnics as well as pension while the payment of pensions and salaries of the staff of DELSU were paid as scheduled that f the MDAs as well as polytechnics staff was delayed due to an alert received Wednesday evening 3 February 2016 of attempt to defraud the state through the payment of salaries".
"The permanent secretary and the Accountant-General on receiving the threat immediately informed his Excellency who directed the state security agencies in the state as well as the bank should be informed immediately. He also directed the perm. Sec/accountant general to put in place additional control measures to prevent future attempts on accounts. It is very important here to mention that the security agencies have made arrest and measures have been put in place to strengthen the control in the payment of salaries".
"While it is necessary to sympathise with workers in the state for the delay, it is also important to commend your cooperation. This administration has zero tolerance for fraud and assures all who have such intents to desist from such".
Edevbie 's press statement was read by Information Commissioner, Mr. Patrick Ukah, stressing that the salaries of state departments were delayed because of attempt by some individual to defraud the state through the payment of salaries.