Flavour and first baby mama back together?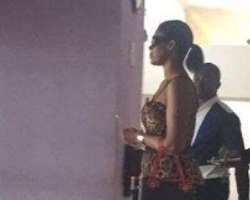 The issue of having a baby mama has struck the Nigerian entertainment industry like a virus. It's almost becoming a way of life.
Many celebrities have been involved in the web of single parenthood. The bible say go to into the world and multiply, I guess that's what our celebrities are doing, and luckily we live in a society that do not frown at single parenthood.
Single parent are taunted and disrespected in some countries, especially when it happens that person was never married, but only had the child out of wedlock.
Sensational singer, Flavor who welcomed first baby with ex delta Soap model, Sandra Okagbue , also welcomed a baby from ex beauty queen Anna Banner.
However, he was recently spotted at the Enugu airport with his first baby mama, there are speculations that they might be back together after the photo of them surfaced.