Lagos State Attorney-General Admits Error In Controversial Synagogue Ruling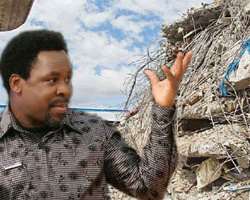 On Monday 8th February 2016, Justice Lawal-Akapo of the Lagos High Court dismissed the application of The Synagogue, Church Of All Nations (SCOAN) engineers to forestall trial pending the outcome of an appeal they had earlier submitted.
This comes on the heels of the Lagos State government, through its Attorney General, admitting to committing a judicial slip by predicating its legal action against the engineers on the coroner's verdict of 2015.
Fundamental issues raised in the judicial review by The SCOAN lawyers included a prayer seeking to determine whether or not the Magistrate Oyetade Komolafe-led coroner's inquest was a creation of law.
It would be recalled that while delivering his verdict on the coroner's inquest, Magistrate Oyetade Komolafe ruled that Alimosho Coroner's District was a creation of law despite a careful review of the Lagos State Coroner's system revealing no such district existed
The legal implications of this include all the recommendations of the controversial coroner amounting to a nullity in law.
Even though the Lagos State Government agreed through its Attorney General and Commissioner for Justice, Mr Adeniji Kazeem, to have committed a legal error, it has not apologised or withdrawn the case against the engineers.
"The ruling of Justice Alogba dismissing the application of the engineers amounts to an infringement on their rights to fair hearing," a lawyer told newsmen outside the court premises.
Justice Akapo fixed February 18, 2016 for the continuation of the trial.
It would be recalled that The SCOAN has persistently maintained its stance that the collapse was as a result of sabotage while the Lagos State Government declared structural failure was behind the tragedy.
Nosa Osazuwa, a writer from Lagos, was present during the court hearing