Gov. Rochas Deceit And Unending Sacks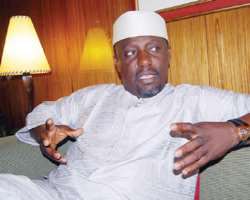 Robert Harris (Fatherland) once said, "If you devote your life to discovering criminals, and it gradually occurs to you that the real criminals are the people you work for? What do you do when everyone tells you not to worry, you can't do anything about it...? This same thing is happening in Imo today. Imo for several years now has been busy discovering grand deceivers and isolating them from leading the State, without knowing that the real criminals and grand deceivers are the people they heartily trusted and relied as faithful in all ramifications of social living.
What is happening in Imo for the past 8 months confirms the old saying that all that glitters is not gold, or as the Bible said- Not everybody that calls father, father, knows God. The Jewish Philosopher, Salomon Martin Buber (Ich und Du- I and Thou) said, "Mondus volt decipi" (the world wants deceit). The Jews rejected the Saviour in favour of a criminal, and till today remain heathens-originator of grand religions of the world.
At the unset of his first tenure, Governor Okorocha sacked 10,000 Imo workers and tagged their appointment political and his dismissal of them apolitical. Thus, 10,000 Imolites became jobless within a twinkle of the eye. Deceits have special coverage schemes as they originate from same source. Rochas came up again with another coverage with promising brighter future for the teaming unemployment Imo youths, and thus produced the Youth Must Work scheme that after some months ended in relieving them all of their jobs, after being owed for months, they were all paid off with some worked-months discounted.
Yet this did not end, but led to various relieves from the various ministries where the work, and thus they all became jobless. This happened shortly after Rochas won the 2015 gubernatorial election in the State, wherein he deceived Imolites with his songs of new heavens for them, promising Imo of a job, job, job; employment, employment, employment; industry, industry, industry.
Deceits come with schemes that vouch only for the wellbeing of the deceiver, and thus are rooted in insensitivity. This insensitivity became more inconsiderate as the Health sector received its own turn of deceit. Its workers were plotted for ruin, while the various grandeurs of the sector received his thoughtless shakes, which were quickly covered as for optimum productivity. The management of the Imo health sector is said to be concessioned, without knowing that the said concession is a direct concession of the entire workers- Meaning that the Imo health workers before were striding with two legs and are now hopping with one.
The height of this insensitivity mounted as Rochas recently clamped down with own-justified reasons, 19 Parastatals at this point of great austerity were closed down (suspended) for being unproductive, and the entire workers return home jobless. The problem is not only being jobless or disengaged, but the disruption of the life and projects of such families and their dependants.
Evil they say comes in chains- Thus catena malum- Chains of evil. Thus the Imo chief shepherd that promised us job, job, job; employment, employment, employment; industry, industry, industry, ended in sacking another 3,000 workers at the earliest month of the New Year 2016, and thus as New Year gift.
What these testify is that Imo is deceived and this deceit will never end as Okorocha has been finally enthroned to end Imo till its utmost ruin. It is evident too that while these are happening is that since Rochas has won his second tenure and electoral tribunal cases, and thus is sure that he will not contest any electoral post that will compel asking for votes from Imolites again, and therein has become Lord of the Flies, destroying all that existed before him like the ancient Roman Emperor Nero. I foresee yet another Great Three state-shocking sacks in the nearest future. It is evident that Imo is in for epochal cataclysm, and will so remain this wind of destruction passes by in 2019, and doubt still, whether these will teach Imolites lasting lessons.
The question that borders the mind of Imolites is what is the economic value of the sack vis-à-vis the austerity in the country and the alleged unproductivity that led to the joblessness, unemployment and de-industrialisation of the citizens that were promised job, job, job; employment, employment, employment; industry, industry, industry as enticing bets for hijacking Imolites mandates.
A deceiver never relents from deceits, and that is why Gov Okorocha keeps on with his endless rigmaroles, changing from one avowed employment programme and developmental project to another. The most recent deceit is his leap from the Community Government Council (CGC) programme and its ruin of the pre-existed Town Unionism to a political Ward Government Council, propelling Imolites to believe his deceits on the "job, job, job; employment, employment, employment; industry, industry, industry" promises. Who will be the workers in the new Ward Industries that have denied the Communities of the initial Community Industries- The new Ward leaders or the Youths-Must-Work that were relieved of their jobs cum the 3,000 workers and 19 parastatals suspended?
Can a wise government anywhere in the world or even Nigeria today, with the present strong economic melt down, built and employ workers with such strengths in the 305 Wards in Imo State and pay them with which fund and how regular, and above all not being sacked after awhile like others? How many people have been employed permanently since after Rochas won in 2011? How many have been retired and replaced in all civil service jobs in the State, and how many have been sacked insensitively. Begin with the Town Unions and his CGC, appointments, etc.
Imolites, shine your eyes. He has come again with his deceits, only but to make you believe he is working. He only wants to plant premature seeds for premature sorrowful and untimely harvests, chagrin and family economic crisis. The families from where the sacked and suspended workers are coming from, has anyone thought about the economic situation after the sack.
Everyone is working and managing to hardly survive and how better now for them when the grand 21stCentury Industrialist and highest employer of labour and productivity in the State sacks them? The litany of woes and tales of sorrow for Imo workers are at the apex point of its existence ever since the creation of the State in 1976, and these are so as the Governor himself seems to be a sadist with the highest degree of insensitivity. Let us shine our eyes again. He has come again, my co-citizens, he has come again!
Protus Nathan Uzorma
Disclaimer:

"The views/contents expressed in this article are the sole responsibility of the author(s) and do not necessarily reflect those of The Nigerian Voice. The Nigerian Voice will not be responsible or liable for any inaccurate or incorrect statements contained in this article."
Articles by Nathan Protus Uzorma