Rivers: Oyegun denies call for judiciary probe over Supreme Court guber verdict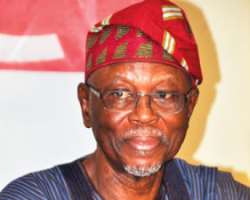 The National Chairman of the All Progressives Congress (APC), Chief John Odigie-Oyegun has denied claims that he called for the Probe of the National Judiciary.
This is necessitated by a publication in the Vanguard Newspaper of February 4th, 2016 with the title, 'Oyegun calls for probe of supreme court Judges' purporting to convey the reaction of the APC National Chairman to the verdict of the court on the governorship election in Rivers State.
Oyegun said, 'How can I call for the probe of the Judiciary, what I said was that there is a fundamental problem in the party in River state which needs to be tackled and must be addressed, I did not say the supreme Court Judges should be investigated in as much as I expressed my astonishment over the judgment'.
The Party in a statement had earlier frowned at the erroneous media reports stressing that, 'The author of the Vanguard report was not physically at the venue of the event, but relied on this statement; it is baffling that this slant is given to the story.
The statement signed by the party National Secretary said: 'Indeed, a copy of the statement issued following Chief Odigie-Oyegun's meeting with the APC delegation from Rivers State was widely circulated.
At no time during the meeting or in the statement referred to did the National Chairman make such a call for the probe of Supreme Court Judges. What transpired at the meeting was correctly reported in other media outlets.
The party affirms that its National Chairman, Chief John Odigie-Oyegun has the highest regards for the judiciary. - Daily Times.