South Asian Games Kicks Off In Northeast India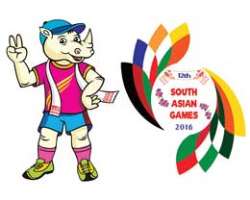 Guwahati: As northeast India is preparing for the 12th South Asian Games 2016, to be held in Guwahati and Shillong on 5-16 February 2016, both the capital cities have turned into fortress under security nets.
Prime Minister Narendra Modi is scheduled to inaugurate the spectacular sporting event on Friday in presence of nearly 4500 athletes, officials and sport lovers from Bangladesh, Bhutan, Nepal, Maldives, Sri Lanka, Pakistan, Afghanistan with the host country India.
The mascot of the event is designed with the campaign for conservation
of world's precious one-horned rhinoceros, which has sizable
population in various forest reserves of the region and the theme song
'Ai Prithibi Ek Kringagon….' has been picked up from the immortal
creations of legendary Assamese music maestro Dr Bhupen Hazarika.
Meanwhile, the security agencies have already expanded its nets to all
sensitive locations to make the first biggest ever international
multi-sporting event held in the region hassle free. Assam chief
minister Tarun Gogoi has ensured a 'fool-proof security system' for
the mega event ensuring smooth conduct of the Games.
"The government has arranged fool-proof security for sportspersons as
well as spectators for the smooth conduct of the games," said Gogoi
after attending a review meeting with the representatives from the
army, para-military forces, police, intelligence agencies and sports
administrators to discuss the last minute preparations of the event.
The Congress veteran as well as Meghalaya chief minister Mukul Sangma
have appealed to the people of the alienated region to welcome and
co-operate with the sportspersons and officials who are coming from
eight south Asian countries for the event spreading camaraderie & good
will.
Guwahati city police commissioner Mukesh Agarwala, while talking to
the media persons, elaborated that over 90 hotels, guest houses and
resorts would be used for the Games, where the security personnel
would be deployed for 24 hours a day during the occasion. He also
added that additional 500 officials would be deployed in the city to
control the traffics.
Meanwhile, the banned United Liberation Front of Assam (Independent),
which is waging a war against Indian Union government for a sovereign
Assam, has also come out with a statement welcoming the event saying
that the participants from the south Asian nations would 'find our
region have similarities with their own lands' that should make them
feel at home.
"The sporting spirit quality in human interactions is recognized as an
extremely valuable asset which can evaporate petty differences, break
barriers, remove misunderstanding, strengthens bonding of old
friendship and create new ones," said the statement issued by Ulfa (I)
chairman Abhijit Asom.