Senator Ben Murray Bruce And His Making Sense, What Manner Of Sense?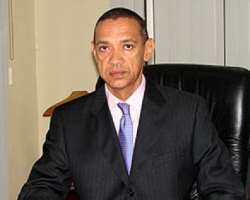 One just watched on TV how the Senate committee on the federal capital territory headed by Senator Dino Melaye and other senators including I just want to make sense senator, Ben Murray Bruce at a public hearing, where the administration of ex President Goodluck Jonathan was exposed for its abuse of public office and trust through the sharing and conversion of the maitama green hills in violation of the Abuja master plan for personal use.
The beneficiaries of this criminal act of sharing and conversion of the green hill according to Senator Dino Melaye committee include amongst others Ex President Goodluck Jonathan, Fmr Petroleum minister Diezani Madueke, fmr minister of trade and investment, Olusegun Aganga, PDP "chairman", Uche Secondus, late NSA Owoye Azazi, etc.
However since the senate committee on the FCT stumbled on this criminal act and a despoliation of the environment in Abuja, the seat of government by those who swore on oath to uphold the constitution and were saddled with position of responsibility, one is baffled by the continued silence and absence of tweets or Facebook comments on this abuse of public office by, I just want to make sense, senator Ben Murray Bruce who was also a member of the committee
The puzzle for one and which we must seek answer from our tweeter Senator, is that in view of his constitutional responsibility as a member of Nigeria's upper legislative chamber and his mantra of, I just want to make sense, doesn't this violation of the constitution by Ex President Goodluck Jonathan and his cronies sharing and conversion of public land for personal use, make sense?
Senator, we are waiting?
Nelson Ekujumi
Disclaimer:

"The views/contents expressed in this article are the sole responsibility of the author(s) and do not necessarily reflect those of The Nigerian Voice. The Nigerian Voice will not be responsible or liable for any inaccurate or incorrect statements contained in this article."