Amaechi used $150 m Rivers money to fund APC elections: Gov Wike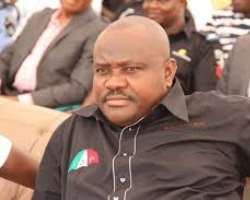 Governor Nyesom Wike went to church on Sunday to celebrate his legal victory at the Supreme Court.
But the verbal war between the governor and his predecessor, Rotimi Amaechi, reverberated in from that solemn arena, the quaint hall  Saint Peter's Anglican Church in Obio/Akpor Local Government Area.
Wike, who said he would not have contested a governorship rerun if the Supreme Court had failed to uphold his election, alleged that  the immediate past government in the state led by Mr. Rotimi Amaechi had used $150m to fund the All Progressives Congress' elections between December 1 and 18 of 2014,
He vowed amidst acclaim from the congregation that  the state government will recover all stolen funds.
The governor said he would have opted out of the rerun in order to prevent loss of lives that could have trailed the poll, saying that nothing was worth the spilling of human blood.
He said, "Nothing is impossible with God. Men of God prophesied a few days to the Supreme Court ruling that the judgment will confirm the mandate given to us by the Rivers people.
"We won the election clearly as has been confirmed by the Supreme Court. If there was a rerun, I wouldn't have contested because there would have been a bloodbath. I resolved not to be part of anything that would bring about bloodbath."
According to him,  the failure of the "evil plotters" meant that Rivers people would return all the legislators, whose elections were nullified by the Appeal Court.
Wike said that the  Supreme Court verdict on  his election was an affirmation of the will of the Rivers people, and that it had boosted people's confidence on judiciary as the bastion of hope for the people.
He assured the Rivers people he wouldnot disappoint them.
Wike said he would tolerate any form rigging in the State and National Assembly rerun elections in the state, saying any INEC staff who attempts to rig will be treated as an armed robbers.
Meanwhile, the All progressives Congress Rivers State reacted angrily to Wike's accusations against Amaechi.
The state Publicity Secretary of the APC, Mr. Chris Finebone, dismissed the governor's claim  as a big lie from "the very depth of hell."
It will be recalled that the state APC chapter prior to the Supreme Court verdict had referred to Wike as caretaker governor withe little regard for the governor and his office.
Finebone said, "That (allegation) is a big lie taken from the very depth of hell. Wike talks big and tough, but behind his tough-talking is a moronic coward. He will not advance that accusation beyond the comfort of his audience.
"His deeds are awaiting him and at the appropriate time, he will be held to account. If he is serious, let him go to court and summon Rt. Hon. Chibuike Rotimi Amaechi. But you can be sure that he (Wike) will not do that because that Amaechi is without blemish."