Dangote Cement constructs new plants in Edo, Ogun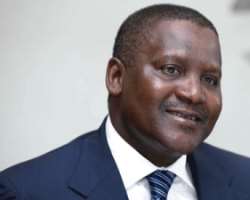 Dangote Cement has announced the take-off of the construction of its three million metric (3MT)  tonnes cement plant in Okpella, Edo State.
The green field plant is  worth $500million (N98.5billion) and is to manufacture the same top quality the company is associated with.
He said the company is also building a six million metric tonne in Itori in Ogun State.
Its Group Managing Director/ Chief Executive Officer (CEO), Mr. Devakumar V. G. Edwin said the cement plant will further increase the market share of the company locally and internationally and ensure there is no gap in consumption.
He said the brand is poised towards covering neigbouring African countries, such as Chad, Niger, Togo, Ghana and northern  Cameroon.
On how the company is coping with forex challenges, Edwin said: 'We have forex reserves besides as a policy we are also re-allocating our forex. You must not forget that we are oriented towards export meaning that our forex operations generate forex. As far as we are concerned we are at home with the forex policy.'
The Adviser to the president of the Dangote Group, Mr. Joesph Makoju  said the company has also prioritised its operations and never lacking in forex.
He said the company has a standard design and prototype as it has constructed such cement plant in many African countries and even locally.
According to Edwin, the plant will directly employ over 5,000 people with thousands more as indirect workers, adding that in the long run, it will favourably affect the pricing but argued that the public should not forget that naira has depreciated so much and would take time to rebound.
He argued that the principle of economies of scale will apply as the volume of cement production increase in the country. The more the merrier he said and further stressed that competition brings out the best from manufacturers and ultimately remains the best for consumers as they are exposed to make the best choices in terms of quality and quantity, he added.
He said: 'Now more than ever, there is a phenomenal demand for cement especially as the current administration of President Muhammadu Buhari is keen on building infrastructure which include roads and large housing estates. Infrastructure is a key issue in many African and Asian countries but it should not discourage serious investors such as us. We have proposed to build the road linking Lokoja and Kabba in Kogi State covering our areas of operation in Obajana to the government and at the moment we are awaiting government's response.'