I Will Not Kill Naira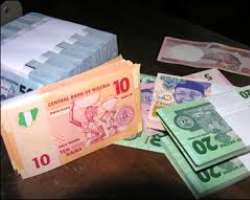 'I will not kill naira' says President Buhari, though it sounds good but is it real? Truly, no President will ever want to devalue her country's currency let alone at this point where uncertainties have enveloped our economy. Apart from the current financial meltdown, devaluing Naira in a country where importation accounts for 93% of our consumptions will spell doom for the overstretched public. Even we have extended importation to President, since 97% of our President's inaction and actions usually come from his abroad tours.
Away from emotions can we ask ourselves this simple question, what are those factors pushing our Naira to devaluation? If foreign exchange is by a mere statement why not making N1 = $1?
We need to come with terms, despite all stringent policies on foreign exchange by CBN for over 7months the gap between official and parallel markets rates keep widening.
All these policies to protect our slim foreign reserve and curb capital flight will continue to keep both official rate and parallel market rate at arms' length in as much as those factors responsible remain negative to our economy.
In practical, forces of demand and supply should determine price of any item but we are ignoring this fact. What we are running from have eventually caught us unaware.
Our foreign reserve keep depleting due to dollarisation of our economy and over reliance on oil. It is very simple as oil price slumps, our receipts will keep slumping even if our payments remain constant. So where do we get reserve from? The little we have is again on the path of profligacy true a borrowing spree 2016 budget. Why should we be funding wastage through loans?
Secondly, we don't want prices of commodities(both essential and non-essential) to inflate but what is the reality now? Dollars scarcity has led to desperate sourcing for it in parallel market. Even banks fund their transactions through parallel market. May be we should ask those business men and women why their banks are charging them at the rate from parallel market not official market.
So how many transactions going through official rate compare with rate from parallel market?
Evidently, we are practising something unrealistic. If foreign exchange rate is really at the official rate then why are prices of commodities sky rocketing?
Except anyone want to be economical with the truth, the first 6months wasted by this government has also created part of this economy woe. There should not be vacuum in governance, this government came at a critical point busy doing nothing but irrelevances. As a serious government seeing the economy indicators would have warranted them to put on thinking caps to be proactive. They were cleaning mess but eventually presented a budget of mess through a messing process.
The 2016 budget shows we are not changing at all. A zero based budget as promised later turn to adding of zeros. With countless of unwanted items rearing their heads in the budget. If Presidency is increasing its budget by N14bn at $38/barrel benchmark price for oil then we should not be surprised seeing headquarters of a Ministry proposing N795mn for website update. Even from over N19bn proposed for capital projects in Presidency, 63% of it is going to State House HQ and Medical Centre.
This same capital allocation to Presidency is higher than that of sensitive Ministries like Solid Minerals, Science and Technology, that can join Agriculture in diversifying our economy.
Until all our commonwealth Managers show sincerity in this situation, these cosmetic policies will do us no good.
We were told IMF came not for loans assistance but few weeks later we were hearing loans from here and there.
Surprisingly, another lawyer, Minister of Justice and AGF, Malami came to appeal to our vanity that EFCC recovered N400tn, so where is the money or who re-stole it?
The National budget for 16years was not up to 30% of it. We know many of our readers will be pointing to Jonathan's administration for this woe but time will tell. A sincere government should not be cleaning mess with this 2016 budget.
Candidly, we need sincerity of purpose in governance if we really want the governed to smile. It really don't matter if Mr President keep touring the globe, no country will give you something without taking it back in 20folds.
Wherever the carcasses are there will eagles gather.
Let us make our home conducive for businesses with policies and projects and not charity begins abroad approach.
O ye Naira arise and survive against Dollar.
Ifedayo Obi,
Good Governance Advocates