I'm Proud to Be a Barber…Sexy Steel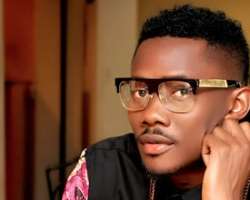 Popular Nigerian singer, Sexy Steel, is just a born entrepreneur who is seriously carving a niche for himself and he keeps smiling to the bank when necessary.
Very reserve fellow, the singer's skills was recently put to test by Tripple MG singer, Tekno, who brought a picture of the style of hair he wanted and needed Sexy Steel to do justice to that.
Not many know that Sexy Steel is multi-talented as he is a musician, actor, barber and a fashion designer of repute. He makes all his cloths himself and also makes for some entertainers in the industry.
Completing the task given to him by Tekno, Sexy Steel, was so proud of himself as he stated that people only know him as a singer but not as a barber. "And this is another side of me that people don't know. I am so blessed with so many talents. I got Tekno a 2016 look."