Ibori neither released nor re-arrested: Aide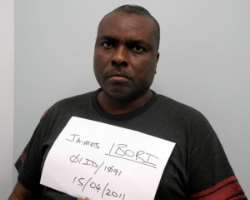 Mr Tony Eluemunor, media aide to former Delta State governor, Chief James Onanefe Ibori, has denied recent media reports on the release of the former governor and subsequent re-arrest.
Eluemunor in a statement on Wednesday said:
"The news had set off a frenzy of activities in the entire South-South geo-political zone, as many people took off from their respective towns and villages to storm Ibori's home town of Oghara. Many kept vigil at his gate; but the vigil was in vain as Ibori has not finished serving his term.
"Perhaps, as the magnitude of the lie an on-line publication told to itself and the nation (in a story it had termed an exclusive) dawned on it, another publication, kicked in with another lie, that Ibori had been re-arrested. This caused sleepless nights to another set of Ibori's supporters as they stayed up all night working the phones to find out the true situation.
"The truth is that the exclusive stories were exclusive lies. Over 24 hours after the publications, no British authority has confirmed either the news of the release or of the purported re-arrest.
"Many people have asked me how such a malicious story could have been cooked up. My only reply is that Ibori's political and legal persecutors tried to counter the favourable wind that arose from Ibori's corner when the case turned against the London Metropolitan Police and the Crown Prosecutors by late January, 2016, when even they agreed that they did not act properly in the way they investigated Ibori and his associates.
"That forced them to withdraw the charges they had brought against one of Ibori's lawyers, Mr. Bradesh Gohil.
"Most importantly, the judge ruled that all the documents that had been withheld from Ibori and all his associates should be turned over to them and that they were free to go on appeal to challenge even their earlier convictions." the statement concluded.