Couple arrested for allegedly holding woman hostage for 5 days while man raped her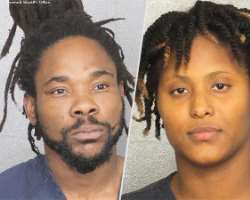 Couple Arrested for Allegedly Holding Woman Hostage For 5 Days While Man Raped Her
Florida police have arrested a man and woman who allegedly held a woman hostage over a five-day period, during which the man raped her, PEOPLE confirms.
Brandon Forbes, 34, was arrested on Jan. 23 and faces sexual battery, battery and false imprisonment charges for his role in keeping a 33-year-old woman bound in a North Lauderdale home where he allegedly raped her repeatedly, a Broward Sheriff's Office spokesperson tells PEOPLE.
Twenty-three-year-old Raiza Rosado was arrested more than a week later on two kidnapping charges.
Police say Rosado met the woman at a beach in Miami on Jan. 16 and invited her back to her home with her and Forbes, according to a police report obtained by PEOPLE.
The woman spent the night and, the next day, Rosado allegedly told her that she and Forbes "commonly meet people and commit robberies." The police report states that the woman tried to leave that day, but Forbes "aggressively told her not to leave."
"[Forbes]' actions, combined with the knowledge hat they commonly commit robberies, placed the victim in fear to leave the residence," police say.
The woman told police that Forbes tried to have sex with her while Rosado was asleep. Forbes allegedly put a condom on and tried to assault her, but the woman fought him off, the report states.
However, the next day, Forbes allegedly told Rosado that he had sex with the woman and the two argued. Both Forbes and Rosado allegedly then beat the woman, bound her with a cloth belt.
"[Forbes and Rosado] then carried the victim upstairs, placed a sock in her mouth and covered her head with a black sheet," the report states. [They] placed the victim in a bedroom where she remained throughout the night."
On another occasion, Forbes allegedly forced the woman to perform oral sex on him before he raped her. The woman told police that she believed Forbes had a gun and, at one point, she allegedly heard Rosado say "want me to get the silencer?"
On Jan. 22, Rosado allegedly took the woman to a train station and let her leave. She then contacted the police. Investigators say the woman's injuries were consistent with her claims.
The woman later identified both Forbes and Rosado in a double-blind photo array.
Forbes is being held on $35,000 bail and Rosado on $15,000 bail, the spokesperson says. Both are being held at Broward County Jail.