UN panel rules in favour of Julian Assange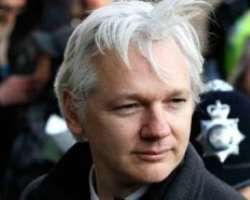 A United Nations (UN) panel has ruled that the Wikileaks founder, Julian Assange, is being unlawfully detained in London, according to reports.
However, the ruling by the UN's Working Group on Arbitrary Detention is not binding in Britain.
Assange, 44, has said he will use the ruling – which is an influential opinion based on international and domestic law – to push for the return of his passport and a guarantee that he is no longer subject to arrest.
But he is unlikely to leave the embassy and risk arrest until these conditions are met.
There is now a warrant for the arrest of Assange, after he sought asylum at the Ecuadorian embassy in 2012 to avoid extradition to Sweden over sexual assault allegations.
British police said "if he leaves the embassy, we will make every effort to arrest him".
Though police recently ended their 24/7 visible guard outside the embassy, they have covert surveillance in case he tries to leave.
Assange says he fears the Sweden extradition would be followed by extradition to the United States (U.S.) to face espionage charges over his work with WikiLeaks.
The Geneva-based UN group was due to announce the findings of its investigation today.
It made the decision several weeks ago and informed the countries involved in the case, including Britain and Sweden.
Yesterday, the BBC reported the decision was in Assange's favour. Fairfax also understands this is the case.
Earlier yesterday, Assange tweeted that "should the UN announce that I have lost my case … I shall exit the embassy at noon today to accept arrest".
-BBC