Professor Leonard Umunna Foundation @4: Using Valentine Day to Affect Ajegunle Kids Positively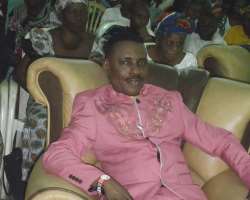 Apart from his yearly widows empowerment programme in Ajegunle,Bishop (Prof) Leonard Nwaoma Umunna,the presiding Bishop of Bible Life Church Cathedral and the father of Church drama in Nigeria, has decided to use this noble foundation to affect lives of kids in talent discovery on Valentine day in Ajegunle. This foundation is all about building young talents for future careers in life.
At 4, the foundation has able to create awareness of self-independent among kids in talent creation and cultural diversity. Bishop Umunna felt that the digitalization of present kids needs to be taught on cultural values and talent development. It is a foundation that organizes sports activities for kids in different schools and cultural fiesta. His creativeness on the kids has made him different from other grassroots ministers of God in Nigeria.
On Friday 12th, February 2016 by 10.00am, Bishop Umunna would be empowering some less-privileged kids in Ajegunle. It is a foundation that moulds kids' character to be better children in the future. The acronym of 'Catch them young runs through the mental picture of this wonderful servant of God. One thing you cannot take away from Bishop Leonard Umunna, his display of physical and spiritual humility in God's presence. Kids discovered from this foundation since 2013 are now better children in the society.
According to Bishop Umunna, every child is a gift from God and every parent must learn to discover his or her child's area of specialty in life. This foundation was created by God to teach children on cultural values and mode of dressing in Nigeria. Being a pastor does not mean we should neglect culture but to let our kids knows its importance in life? It is a programme to celebrate Valentine day in the lives of Children in Nigeria not in sinful celebration.
He further said my choice of fixing Valentine day, though its falls on Sunday service which is not convenient for us but we decided to use another date to make our kids to know their talent inputs in life and nothing more.
Godday Odidi
Social Media Analyst
08058124798
Lagos
Disclaimer:

"The views/contents expressed in this article are the sole responsibility of the author(s) and do not necessarily reflect those of The Nigerian Voice. The Nigerian Voice will not be responsible or liable for any inaccurate or incorrect statements contained in this article."
Articles by Godday Odidi