Rivers Re-Run: Senator Abe Appeals To Candidates To Support Non-Violence Campaign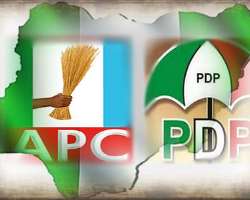 Ahead of the State and National Assembly re-run elections scheduled to hold on March 19, 2016, Senator Magnus Ngei Abe has appealed to candidates of other political parties to dissuade their supporters from engaging in violence.
In a statement signed by Parry Saroh Benson, Spokesperson to Senator Abe said, "We owe our people the moral responsibility as leaders, irrespective of our political affiliations, to ensure that our supporters shun all forms of violence and thuggery before, during and after the elections".
It enjoined all candidates to lend their voice to the campaign against political violence as this will go a long way to saving lives, which no man can create, and checking the excesses of party supporters.
The statement further condemned in its entirety the statement credited to the governor of Rivers state, chief Nyesom Wike that INEC officials coming to Rivers state should write their will describing it as not only inappropriate but unhelpful as that is a call to violence.
It noted that no INEC officials have ever been summarily tried, sentenced and extra-judicially executed, which is what he is now calling for.
"I appeal to the candidates to be issue based in their campaigns and discuss matters that benefit our people".
"Candidates should desist from indulging in character assassination, campaign of calumny, attrition and naked propaganda", it stated.
Also, the statement called on the youths to refrain from making themselves willing tools in the hands of unscrupulous politicians, who want to use them to perpetrate violence for their selfish aggrandizement while, their children are living comfortably and safe overseas.
"Let's make a difference in this election", it added.
Signed:
PARRY SAROH BENSON
Spokesperson to Sen. Magnus Abe
March 2, 2016