#2016 Budget 25 Random Observations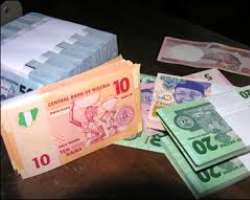 Let's Start With The State House, Nigeria's Seat Of Executive Power
N536,295,924- Linking Cables to Driver's Rest Room at Aso Rock
N33,277,595- Stage Curtains + Electrical Drive at Aso Rock
N3,914,197,062- Annual routine maintenance at Aso Rock
N1,559,911,748 Electrical work at Aso Rock
#3 and #4 above come to
N5,474,108,810 or
N14,956,581 Each and Every Day for Routine Maintenance and Electrical Installations
N623,190 is spent for Routine Maintenance and Light Work each and EVERY hour by Aso Rock.
N10,387 is spent for routine maintenance and light work each and EVERY minute by Aso Rock
N173 is spent for routine maintenance and light work each and EVERY second by Aso Rock
N259,015,000 Purchase of Tyres, Batteries, Fuses, Toolboxes, Car Jacks, Tyre Changing 'Machines', etc. for Aso Rock vehicles.
N618,000,000 Purchase of 5 BMW Saloons, 5 BMW SUVs, 16 & 33 Seater Toyota Hiace Buses and pick up vans for Aso Rock.
N27,000,000 Purchase of C-Caution Signs, Fire Extinguishers, Towing Ropes and Booster Cables for Aso Rock fleet.
N904,015,000 Cost of Acquisition of BRAND NEW automobile fleet and Fleet Maintenance Equipment for Aso Rock.
Consequently, Aso Rock is spending:
N2,469,986 EACH and EVERY day on its automobile fleet.
N102,916 EACH and EVERY hour on its automobile fleet.
N1715 EACH and EVERY Minute on its automobile fleet.
N29 EACH and EVERY Second on its automobile fleet.
Ministry of Defense too has interesting financial priorities-
N700,000,000 Armed Forces Specialist Hospital
N1,394,709,718House Boat
French Language Village, Badagry, 3 Totally unrelated line items each have the exact same budget amount.
N17,897,716Clinic Block
N17,897,716250 Meter Perimeter Fence
N17,897,716Female Hostel
Meetings are another example of money going down the drain:
N10,000,000 - National Board of Technical Education - 'To meet with...
'DANGOTE'... and other Key NVQ Stakeholders...
N62,701,773- FGGC Monguno- Meeting of Tender Board et. al
N80,000,000- APPA Ministerial Meeting
N82,200,000 – Lagos University Teaching Hospital, Mgt. Meeting for Award
N400,000,000 – General Meeting and Symposium Shelter Afrique in Nigeria
Total Capital Expenditure in the Medical Sector leaves a lot to be desired
N230,904,795University College Hospital Ibadan
N212,539,245Lagos University Teaching Hospital
N230,904,795Ahmadu Bello University Teaching Hospital
N218,335,908University of Nigeria Teaching Hospital
N212,886,502University of Benin Teaching Hospital
N162,622,221ObafemiAwolowo University Teaching Hospital
N166,802,164University of Ilorin Teaching Hospital
N228,717,880Jos University Teaching Hospital
N169,498,392University of Port Harcourt Teaching Hospital
N3,865,629,221State House (Aso Rock) Medical Center
As if it's not bad enough that no Teaching Hospital got more funding than the Aso Rock Medical Center, both the Federal Staff Hospital Abuja and the National Hospital Abuja also got a fraction of what the Aso Rock Medical Center got:
N153,625,651 - Federal Staff Hospital Abuja
N329,429,817 - National Hospital, Abuja
N3,865,629,221- Aso Rock Medical Center
Then we have this icing on the medical cake:

N2,666,853,303 - Federal Ministry of Health Construction of Hospitals NATIONWIDE:
N3,865,629,221 - Aso Rock Medical Center

Looking at our misguided priorities from another angle, compare and contrast:

N904,015,000Cost of New Car Fleet & Fleet Maintenance Equipment for Aso Rock.
N1,096,612,966Modernization of Tertiary Hospitals Across Nigeria.

Books are another area where the Budget misses it completely. The Vice President gets more allocated to him for books that ANY university library.

N4,906,822 State House Operations- Vice President

N93,992University of Abuja
N710,722ObafemiAwolowo University
N947,283University of Benin Teaching Hospital
N2,077,478University of Jos

Honorable mention goes to the National Library of Nigeria which has

N5,021,254allocated for books.
Moving right along:

N130,188,931 - NnamdiAzikiwe Teaching Hospital- DOORS
N22,342,494- University of Calabar Teaching Hostpital - Evacuation of rubbies from the building'. Yes 'RUBBIES'
Painting and Fencing also big business in the budget:

N165,100,000 - Nigerian Civil Aviation Authority- Painting
N46,826,911- Institute of Agricultural Research- Zaria – Painting
N28,687,386- FGGC Keana- 300M Fence
N40,572,200 –National Cereals Research Institute, Badeggi- 3km Fence

FGC Keffi- 1000 Meter Fence

N108,209,272- FGC Azare, 3000 Meter Fence
N108,208,273- FGC Azare, 3000 Meter Fence (yes 2 fences)

N346,000,000- Ministry of Transport- Jos Airport 10Km Fence

N1,498,505,744 – Nigerian Defense Academy- Kaduna- Perimeter Fence

Chairs are big business too:

N99,281,250 -National Theater- 1,600 Chairs
N585,000,000Ministry of Communication Technology HQ- Chairs

Let's not forget tables:

N415,500,000- Ministry of Communication Technology HQ- Tables

Curious Buildings and Boreholes are in the Budget too:

N500,000,000- Nigerian Civil Aviation Authority- 6 Aviation Family Centers-
N308,000,000- VIP Wing at State House Medical Center-
N400,000,000- Hostel at Nigerian-Benin International School-
Ministry of Works, Power & Housing HQ:

N400,000,000- Solar Borehole
N161,500,000- Motorized Borehole

The Budget also has some interesting pricing for the Toyota Hilux, figures below are for 1 Vehicle.

N1,264,941- GashakaGumti National Park
N5,700,000- Nigerian Natural Medicine Development Agency
N6,500,000- FGGC Owerri
N7,500,000- Ministry of Technology, Akure
N8,855,000- FGGC Gumi Tambuwal
N9,178,142- FGGC Umuahia
N10,000,000 FGC EzzamgboAbakaliki
N11,147,675– FTC Lassa
N12,888,016- Ministry of Health
N13,500,000 – FGC Okigwe
N15,970,515- Foreign Service Academy
N26,600,000National Security Adviser
N27,273,523- FTC Ikare
N27,660,000- FGGC Kazaure

Last but definitely neither least nor strangest is this:

N140,911,157 - National Troupe of Nigeria
For more on how the #2016Budget is full of items which shortchange Nigeria, visit MukhtarDan'Iyan on Twitter, his handle is @MrAyeDee and his work (along with the work of many others) on the budget is under the hashtag #2016Budget.
Disclaimer:

"The views/contents expressed in this article are the sole responsibility of the author(s) and do not necessarily reflect those of The Nigerian Voice. The Nigerian Voice will not be responsible or liable for any inaccurate or incorrect statements contained in this article."