Read Bill Gates' comment about Dangote, the only black billionaire among the world's 50 richest people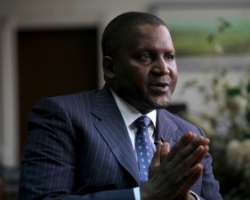 (REUTERS/Akintunde Akinleye)
Founder and CEO of the Dangote Group Aliko Dangote commands a fortune of $14.3 billion.
There's only one person in all of Africa who makes the list of the  50 richest people on earth :  Nigerian businessman Aliko Dangote. When our ranking was released, Dangote's net worth  stood at $14.3 billion, equal to 2.5% of Nigeria's GDP .
The majority of his wealth stems from a more than 90% stake in Dangote Cement, his $2.4 billion in sales company that's publicly traded on the Nigerian Stock Exchange.
Dangote's business interests span several African countries. He owns  cement plants in Zambia, Senegal, Tanzania, and South Africa. In 2011, the commodities baron  invested $4 billion to build a facility on the Ivory Coast .
Dangote, who has been CEO and president of Dangote Group for 35 years, is  also an active philanthropist. As chairman of The Dangote Foundation , he oversees several education, agriculture, and health initiatives, including a $12,000-per-day food program for the undernourished. 
"Aliko is Africa's richest man, and his business activities drive economic growth across the continent. That's impressive, but I know him best as a leader constantly in search of ways to bridge the gap between private business and public health," wrote Bill Gates , the richest person in the world, of his fellow philanthropist in Time Magazine. The tech mogul also praised Dangote's success in removing Nigeria from the global list of endemic countries in his fight to eradicate polio.
In January, Dangote and Gates announced a $100 million pledge to cut malnutrition in Nigeria, Africa's most populous country and leading economy. The pair also signed a deal to enhance immunization programs in the country's Northern states.
Dangote tied for 49th on our ranking of the world's 50 richest people —  produced with Wealth-X ,  a company that conducts research on the super-wealthy — and is the only black person to make the list.