Nigeria will begin direct sale of crude oil from March: Kachikwu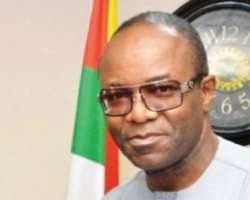 The Minister of State for Petroleum Resources and Group Managing Director, Nigerian National Petroleum Corporation (NNPC), Dr. Ibe Kachikwu, has revealed that the crude-for-products exchange arrangement popularly referred to as crude swap will be replaced by a Direct-Sale–Direct-Purchase (DSDP) arrangement which would take off in March.
Kachikwu made the revelations when he appeared before the House of Representatives Ad-Hoc Committee set up to investigate the Corporation's offshore processing and crude swap arrangement between 2010 to date at the National Assembly Complex, Abuja.
A statement credited to the Group General Manager, Group Public Affairs Division, NNPC, Mr. Ohi Alegbe, explained that the minister noted that the DSDP was adopted to replace the Crude Oil Swap initiative and the Offshore Processing Arrangement (OPA) so as to introduce and entrench transparency into the crude oil for product transaction by the state-run oil firm in line with global best practices.
Before now, crude oil was exchanged for petroleum products through third party traders at a pre-determined yield pattern.
According to the minister, the DSDP option eliminates all the cost elements of middlemen and gives the NNPC the latitude to take control of sale and purchase of the crude oil transaction with its partners adding that the initiative would save $1billion for the Federal Government.
"When I assumed duty as the GMD of NNPC, I met the OPA and like you know, there is always room for improvement. I and my team came up with the DSDP initiative with the aim of throwing open the bidding process. This initiative has brought transparency into the crude-for-product exchange matrix and it is in tandem with global best practices," he said.