PDP Crisis: My Party Failed Because Mercenaries Took Over It's Control- Nat'l Char. Aspirant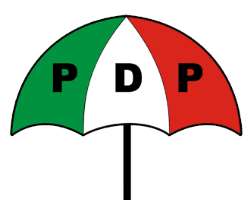 A top aspirant for the position of national chairmanship of the People's Democratic Party (PDP), Ambassador Wilberforce Juta disclosed that the party suffers the wicked ordeals of those hired mercenaries that do not love and respect the party's manifestoes has resulted to the woeful outing in the last general elections.
The former governor of the defunct Gongola state who made the disclosure during a session with newsmen in Yola yesterday noted that as a founding member of the PDP their intentions was to float a party that will unite all Nigerians.
He said in their resolve to avoid the mistakes of the first and second republics which carried out regionally inclined politicking, both the progressives and the reactionary forces within the political system coalesced to form a party with a national outlook.
Juta noted with regret that the dream of the founding fathers' was stymied by the antics of fifth columnists in the mould of mercenaries who took over the control of the reins of the party and its eventual defeat in the last general elections.
He added that if elected into office, he will ensure that the party is restructured along the vision and mission of its founding fathers so as to rejuvenate its lost glory and winning streak.
While responding to agitation by some members of the party who clamor for the party's change of nomenclature, Juta said there was nothing wrong with the name of party noting that it was the whimsical attitude of some self serving members that led the party to its current sorry state promising to work in line with the party's manifesto so as to bring it back on track.
While applauding the anti corruption stance of president Muhammadu Buhari's led government, Juta noted that the major problem with Nigeria is corruption and any well meaning Nigerian should support moves to rid the country of the menace for it to be rescued.
He decried the attitude of some politicians whose major stake in politics seems is to serve their personal interests noting that these people would have no place in the party if he emerges its leader as he will make sure that respect for the rule of law and constitutionality are given priority in the scheme of party affairs.
Juta who expressed gratitude for his endorsement by Adamawa state working Committee of the party says he will never disappoint them if he finally emerges as the National chairman of the party.