Mrs. Toyin Saraki Represents Wife Of Nigeria's President At African Union Summit, Advocates For Increased Funding For Pneumonia Interventions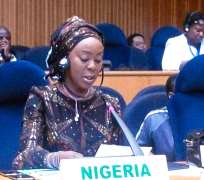 Representing H.E. Mrs. Aisha Buhari, Wife of the President of the Federal Republic of Nigeria, at the General Assembly of the Organisation of African First Ladies against HIV/AIDS (OAFLA), the Wife of Nigeria's Senate President, and Founder-President of the Wellbeing Foundation Africa (WBFA), H.E. Mrs. Toyin Saraki, has called for increased funding of, and accessibility to, proven interventions that prevent and treat pneumonia.
Introducing the Every Breath Counts campaign – a new global pneumonia campaign that aims to raise awareness of the need for increased funding and improved policies for pneumonia interventions, Mrs. Saraki disclosed that pneumonia, the number one killer of children under five, kills more than 900,000 children every year – more than malaria, AIDS, and measles combined. Despite this, however, pneumonia receives a fraction of the global public health investment, and continues to claim millions of young lives annually.
Outlining effective pneumonia interventions, Mrs. Toyin Saraki stated, "Vaccination is critical to preventing pneumonia and other diseases affecting the health of our children. Immunization should be combined with other innovative interventions that minimize vulnerability, such as reducing household air pollution and increasing access to exclusive breastfeeding and clean water. In addition, we must ensure the availability in the community of effective treatments, including antibiotics like amoxicillin – a cheap and effective treatment for pneumonia."
While the vast majority of pneumonia deaths occur in sub-Saharan Africa, investments towards the prevention, management and treatment of the disease remain low in the region. In an innovative effort to identify and treat those at greatest risk – children living in poor, remote, rural areas –the Wellbeing Foundation Africa (WBFA) empowers mothers with its client-held personal health records (PHRs), which serve to reduce both maternal and under-five mortality, while identifying children with suspected pneumonia - giving them the opportunity to receive timely and appropriate treatment.
Spearheaded in partnership with UNICEF, Speak Up Africa and other global partners, the Every Breath Counts campaign targets African leaders and policy makers and seeks to garner more resources and commitments so as to facilitate tangible progress in the fight against childhood pneumonia.
The campaign launch took place on 31st January 2016, during the African Union Summit at the General Assembly of the Organisation of African First Ladies against HIV/AIDS (OAFLA), and premiered a public service announcement featuring H.E. Mrs Aisha Muhammadu Buhari, which served to mobilize African First Ladies and women leaders as global pneumonia advocates.