POWER SECTOR: JONATHAN TO UNFOLD NEW BLUEPRINT WITHIN 30 DAYS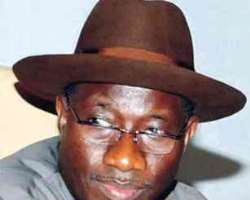 Acting President, Dr. Goodluck Jonathan
Acting President Goodluck Jonathan on Wednesday convened a meeting of stakeholders in the power sector, where it emerged that a new blueprint for the resolution of problems in the troubled sector would be unfolded within 30 days.
The stakeholders who attended the meeting included ministers and heads of relevant ministries, departments and agencies of the government, whose activities impact on the power sector.
The Acting President had recently taken full charge of the Ministry of Power in a bid to address the challenges in the sector, which had resulted in inadequate generation and distribution of electricity for Nigerians.
Minister of Power, Mr. Nuhu Wya, who spoke to journalists after the closed-door meeting, also said Jonathan directed that all hands must be on the deck in the Federal Government's efforts to deliver electricity to Nigerians.
'The meeting is essentially convened by the Acting President with all the stakeholders that will make things happen in the power sector and it is generally agreed that all hands should be on deck to move the power sector forward.
'The final documentation of the programme and the vision are being worked out and it will be announced to Nigerians. Within the period of 30days, everything will be made public,' Wya said.
Asked to explain the difference between the Acting President's efforts and previous interventions in the power sector, Wya said all stakeholders would now be involved, adding that all outstanding issues were henceforth to be discussed centrally.
He said, 'The difference here is that it is under the directive eyes of the Acting President and everybody that is involved in moving the power sector forward is put on the table; the CBN is there, BPP, BPE, Ministry of Finance, NNPC and a number of agencies are there.
'The issue of gas that we have been talking about, we are going to discuss it centrally.
'We are discussing security of the pipelines and other things.
'So the difference here is that everybody involved in value chain of fuel to distribution of power are put on the same table under the watchful eyes of the Acting President.'
However, journalists observed that 30 days seemed too along, judging by the short time left for the administration.
Responding, Wya said the expected new blueprint might actually be unfolded before 30 days.
'Well I said 30days because I am talking to journalists and I don't want to be held by my words,' he said.