Obasanjo accuses state governors of diverting LG funds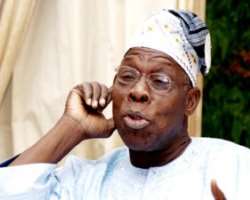 Former President Olusegun Obasanjo Monday made a fearless pronouncement on why development is stunted in Nigeria, saying that governors divert local government allocations to other uses.
Obasanjo made this disclosure on Monday in his opening remark at the inaugural conference of the Ibadan School of Government and Public Policy which was held at the University of Ibadan in the Oyo State capital.
The former president was emphatic as ever insisting that chief among the many problems plaguing the presidential system of government in Nigeria is the alleged diversion of funds meant for developmental projects by state governors which consequently renders the 774 local governments impotent. He added that governors have rendered public institutions irrelevant.
Reacting to the present financial challenges confronting the country due to the fall in the price of crude oil, Obasanjo said:
"It is indeed proper for us in Nigeria to ask the question: Is the government working? Is government positioned to deal with challenges arising from these new developments?
"Is there good governance in the 36 states of the federation where some governors have become sole administrators, acting like emperors? These governors have rendered public institutions irrelevant and useless. Is there development work going on in the 774 constitutionally recognized local government councils which are known to have been appropriated as private estates of the governor's?
"And of course, when governors take their money, the chairmen of the councils take the balance of the money, put it on the table and share it out among council members. In some local governments, has the governors not hijacked most of the resources in them and expended them to serve their whims and caprices instead of using the resources to galvanize growth and development? Have we embraced the principles and values of the presidential system of government such as to enable us to realize our vision of a great country? Instead of the waste that we experience, has the National Assembly been able to live up to its role as an agent of oversight and public accountability?
"When are we going to be able to practice federalism in a way that promotes healthy competition among the states for the benefit of the citizens? When are we going to subordinate partisanship to collective goals and deploy the full potentials of our diversity to advance public causes that serve the aspirations of the teeming masses of our people crying under the cringe of poverty, disease, unemployment and neglect? When shall we all unite around the Nigeria dreaming our quest to be the giant which God has graciously endowed us to be?
"Why is it that every model that has worked elsewhere never seems to work sustainably in Nigeria? Can go on and on."