Adamawa Commissioner Of Justice Tasks Buhari On Funding Of Anti-Graft...Says They Are Not Powerful And Truthfully Bulldogs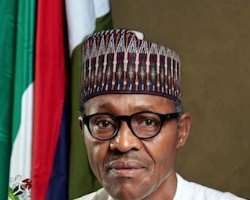 President Muhammadu Buhari has been tasked on taking his anti-corruption fight a notch higher by making funding of anti-graft agencies a top priority, if his campaign against corruption must succeed.
The Attorney General and Commissioner of Justice for Adamawa state Mr. Bala D. Sanga who made the call, yesterday, also lauded President Buhari's political will to fight corruption saying it has been 100%.
He however noted that even though the President has so far demonstrated a commendable level of political will to fight corruption, but "how effective is the law enforcement agencies in fighting corruption" he queried.
Bala posited that to effectively combat corruption certain ingredients must be in place which he listed to be the political will to fight corruption, as exemplified by the President.
Others which he noted were equally vital pillars for the war on corruption to be successful are effective law enforcement, Judiciary, civil society and Media which all need to be efficient as well but regretted that eventhough he still rated their performance as good yet, they however, remained weak to support the the war on corruption to proceed smoothly.
The missing link he said is that certain capacities that should be inherent in modern law enforcement as well as global best practices in combating corruption are still not in place.
He therefore called on the President to make funding to the anti-graft agencies like the Independent Corrupt Practices and Other related Commission , Economic and Financial Crimes Commission and the Code of Conduct Bureau a top priority of his administration.
He observed that his prior experience of working with the EFCC as a Director in charge of money laundering showed that law enforcement is grossly underfunded, under trained and does not have the requisite infrastructure and equipment to fight corruption.
As a result, he noted the country's anti-graft agencies remained 'bulldogs' but they are not "powerful and truthfully bulldogs".
"They can do better but I suspect that at the moment they are poorly trained, poorly funded and equipped," he said in response to the question on whether, ICPC and EFCC could not be considered as toothless bull dog, giving the absence of the critical corpus needed to make them effective.
He noted that for quite a long time this agencies have been trying to do their best with the minimal resources, and therefore urged the Buhari led All Progressive Congress, APC administration to boost them with funds to bring the anti-graft agencies up in line with global best practices.
" My advice to the President therefore is that if the anti-corruption war is to succeed, will be to make funding of the ICPC, and the EFCC his top priority.
Most importantly, the Code of Conduct Bureau should also be funded adequately. Give them a state of the art equipment, train the officers in modern day investigations and technique.
He charged the President to set aside funds for special trainings to be giving to personnel engaged in the anti-corruption fight because corruption being a white collar crime requires some level of sophistication from those with prosecuting it, adding that the kind of training you give to them should be higher than that of the average officer you see on the street.