Ugwuanyi: Setting the example on infrastructure development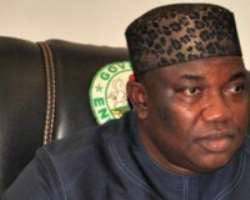 By Gerald Abugu
I had earlier written on the exemplary development strategy I have seen in Enugu State so far in the eight months of the administration of Hon. Ifeanyi Ugwuanyi. I then pressed that, like Ugwuanyi, both federal and other state governments should stop complaining about what they lack and start doing exploits with what they have. I concluded that whatever strategy that is working for Enugu State needs to be copied by others to keep the nation moving.
Today, I am glad that the federal government itself has taken the words from my pen and confirmed them by physical inspection of what is happening in the state. Somebody at the level of the minister of state for works, power and housing, Hon. Mustapha Babashehuri, last week commended Enugu State government for its exploits in developing the road infrastructure in its domain. Beyond commendation, the minister went ahead to let me say 'preach' to other state governments to follow the example of Enugu State on infrastructure development.
The minister's position gives me a coverage that I did not write what I wrote out of any sentiments. He presented the matter with even greater force than I did after a physical inspection of the road development works in Enugu State. The infrastructure development strategy in the state takes a total approach that does not discriminate against federal and local government roads. It is not surprising therefore that Babashehuri was full of commendation for Ugwuanyi for fixing some federal roads in the state.
It can be expected that the minister's comments have encouraged the government and the people of Enugu State considerably. To them the minister has scored them an 'A' in all the roads they have done, a welcome validation of the claims of the state government.
I can see the seriousness of the government in Enugu State in its desire to attract both local and foreign investors into its territory. You cannot explain to investors that bad roads in your state belong to the federal government, which is yet to fix them and still expect them to come in and stay. The minister saw what I saw myself - a new spirit of development in Enugu State with which we can achieve rapid and even development in the country.
He therefore spoke of 'a positive disposition' he saw in the state, which he said would catalyze speedy development in the country. He went ahead to urge other state governments to borrow a leaf from Enugu State government. The minister with other officials of his ministry had inspected a number of roads in Enugu State last week. He emphatically urged other state governments to follow the example set by Enugu State government in infrastructure development.
I like preachers because they establish a benchmark that they themselves are not expected to fall below. And that is what I am taking out of what the minister is catechizing here. Let the federal ministry of works be the first also to borrow the leaf from Enugu State and set the pace for the state governments to follow. We expect to see the same new spirit in infrastructure development and maintenance across the length and breadth of the federation.
Babashehuri corroborated the claim of Enugu State government that it has fixed federal roads in the state. He was quoted as saying that he has 'not seen a single pothole in Enugu' throughout his period of inspection. This is no doubt a good report for a government that is only some months old in office, especially in the south-east where shoddy jobs and massive road deterioration are constantly calling for probe of federal road contracts awarded by the past administration.
It also behooves the federal government to expedite action in offsetting the costs incurred by state governments in rebuilding federal government road facilities. A new regime of fast-tracking the payment of what a state government spends in reconstructing federal roads is needed.
Specifically speaking, this would go a long way to facilitate the ongoing works in Enugu State. It is heartening to note that some of the road contracts flagged off last year are already nearing completion. The federal government should support the development effort of the state by at least paying off the costs incurred by the state on its behalf.
The provision of basic amenities is the basic responsibility of governments at all levels and it is important that governors and other government officials do not abdicate this responsibility at this time when some of them seem to expect applause for paying workers' salaries. Before they redesign their job specifications and begin to come out with the wrong assessment of performance, I think we need to admonish state governors now concerning what exactly are their deliverables. And this is it: don't assess yourself on the basis of how many months' salaries of workers you have paid - that is only a means to an end. Assess your performance on the basis of the quantum of basic amenities you have provided.
This is exactly what the minister meant when he urged governments at the federal, state, and local levels to make collaborative efforts towards provision of basic amenities in their respective areas. This statement came out of satisfaction with what is happening in the road development front in Enugu State.
According to him 'Governments at the federal, states and local government levels should all make collaborative efforts towards provision of basic amenities in their respective areas. Every other state should key into what Enugu government has done to ensure rapid and even development in the country '. To the government in Enugu State I add that it should not relent on a development effort that has made it a model for the nation.
Abugu writes from Enugu.