Seven dead, 10 rescued as boat crashes in Lagos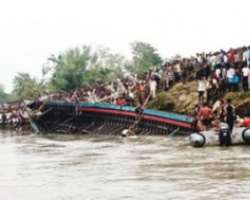 A boat mishap in Badore, Eti-Osa lacal government area of Lagos state on Saturday has left seven people dead while ten people were rescued alive.
The incident occurred at about 10.20am after the boat with 17 passengers on board took off from Ijede jetty on board Badore, Ajah.
According to eye witnesses' account, the boat capsized barely few minutes after its take off from Ijede after which it allegedly ran into a heap of sand scooped together by sand scoopers.
The quick intervention of fishermen in the area were led to rescue of four bodies on the spot while 13 were later recovered and hospitalized at the General Hospital, Ijede, Ijede Aeromedics and two private hospitals for medical attention.
An eye witness Mr Akeem Balogun who narrated the incident to reporters said he was at the jetty when the boat took off with 17 passengers on board,
''I am one of the officers in this jetty and my duty is to ensure that the passengers wear life jackets before taking off from our jetty. As usual, I was at the jetty this morning to monitor compliance before the affected boat took off. The number of casualties would have been higher assuming we don't enforce the use of life jackets. Before the boat took off, I checked all the passengers to ensure all of them wore life jackets and few minutes later, I noticed an unusual gathering of fishermen on the high Sea and I sent one of my men to go and inquire what informed the gathering only for him to call me on phone about the mishap. As at now, seven people are dead while ten are alive,''
Asked the cause of the incident, he said, ''all we gathered was that the boat operator heard a strange sound underneath the boat and the next thing was a capsize but the fisher men ran to their rescue immediately,''
A female survivor Temisan Rire said she narrowly missed the boat because of a telephone conversation, ''all things work together for good to those that love God. I was to board the boat this morning when one of my neighbours called me on phone that I did not switch off the television set and I rushed back home to put things in order. On getting back to the jetty, I saw a crowd only to be told of the incident and goose pimples overwhelmed me,''
As a result of the incident, commercial activities at the jetty have been put on hold while the jetty chairman was said to have travelled to Ogun State when the incident occurred but one of his colleagues who pleaded anonymity said the incident has thrown them into confusion, ''we are busy moving from one hospital to another to ensure the victims are well taken care off,''
-Emmanuel Ikechukwu