See what Yinka Ayele was Doing in Kitchen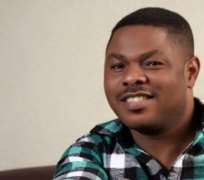 Wow, these days, some Nigerian guys are not joking with their stomach with the way some ladies have treated them in the kitchen and as such, they have decided to learn how to cook themselves.
Going to the market on a regular basis, some guys will sure be sighted pricing various food stuffs to take home to make food for themselves.
Even some homes where there is misunderstanding, the men decides to cook their food when the woman gets angry and abandon the kitchen and you will agree that some men cook better than their spouse.
A case of such a humble husband who chose to keep pride aside is popular gospel singer, Yinka Ayefele, as he recently shared a picture of himself in the kitchen preparing vegetable soup while seated on his wheel chair.
So nice as he attempts to add the vegetables into the hot pot well, no woman will take him for granted and with such skills, the food will taste nice.