CONSTITUTION REVIEW: UPROAR IN REPS OVER APPOINTMENT OF INEC CHAIRMAN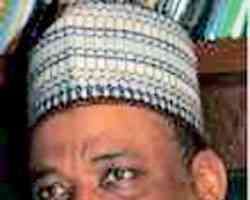 Usman Bayero Nafada, the deputy speaker
Another tense moment enveloped the House of Representatives on Wednesday, as lawmakers resumed the consideration of its ad-hoc committee on the review of the 1999 Constitution.
The point of discord was the appointment of the chairman of the Independent National Electoral Commission.
The constitution review committee headed by the Deputy Speaker of the House, Alhaji Usman Nafada, in a bid to make INEC truly independent, deleted it from the Federal Executive Bodies established under Section 153 of the constitution.
It was silent on the procedure for appointing the chairman of INEC.
A new Section 160A, which the committee proposed, merely spelt out the procedure for appointing other members of INEC, their tenure and the number that would form a quorum before the commission would conduct any activity.
Nafada, who also presided over Wednesday's plenary, told the House that the committee had moved the procedure for appointing INEC's chairman to the proposed Electoral Act.
The Minority Whip, Mr. Femi Gbajabiamila, however, opposed the decision of the committee and insisted that members should debate the mode of appointment of INEC's chairman.
He stated that it was important to know whether the status quo, where the President reserved the power to appoint INEC's chairman, was what the committee transferred to the Electoral Act.
The deputy speaker overruled him, saying that the matter would be debated during the consideration of the report on the Electoral Act.
Gbajabiamila, in a reaction, said that the House had lost touch with the majority of Nigerians.
He specifically noted that the leadership of the House had lost focus, a reason for which, many members were complaining that the House was not flowing with Nigerians.
He added, 'What Nigerians want to know right now is how INEC will be reformed and particularly how the chairman will be appointed.
'But, here we are saying that it should not be discussed; what you have just done is one of the reasons many members are saying that, while Nigerians are going this way, the leadership of the House is going that way.'
At a separate event, Nafada assured Nigerians that the National Assembly would work towards the creation of additional states.
Nafada gave the assurance in Abuja while receiving representatives of the Idoma people of Benue calling for the creation of Apa State from their present state, the News Agency of Nigeria reports.
'Let me assure you here and now that our committee has resolved to recommend the creation of more states in Nigeria,'' he told the hundreds of colourfully-dressed 'Idomas,' who stormed National Assembly.
Nafada, who stood in for the Speaker, Mr. Dimeji Bankole, assured the group that if there 'is going to be any state creation, I assure you that Apa state will be among the states to be created.'