Pa Charles Omoro Okpei: The Ivrogbo Professor Of Journalism And Ace Compere Is Gone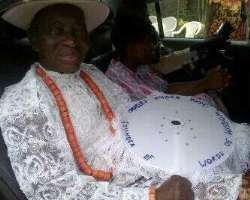 Pa Charles Okpei you gave me confidence in grassroots journalism few years ago when I went into my passionate profession. I remembered the sweet days I would come to your house at Ivrogbo-Irri,you would sit me down and advised me to do more of investigative journalism and read more books to update my writing skills which has really helped me in life.
You taught me how to pronounce Isoko language very well. Daddy was a voracious reader, avid book researcher, author, story-telling lecturer, radio presenter, community spokesperson, masters of ceremony, columnist, editor and I can go on to talk about a man I loved so much.
He went into journalism when it was not lucrative but stood out among his peers. He was a teacher before he went into journalism and trained all his children in God's ways and to be self-dependent in life. He fathered many of his children into entertainment journalism like Cordelia Okpei,a world-class radio presenter, Caroline Okpei,Cyprian Okpei and Chris Okpei and some went into the academic world.Pa Charles was a father of grassroots journalism and Masters of Ceremony where the likes Chief Iduh Amadhe of Uzere kingdom, the present Isoko Development Union, President-General and former Isoko South Chairman and others tapped into his wealth of knowledge on Masters of Ceremony.
Pa Charles Okpei until his demise, he was an active spokesperson of Ivrogbo Odios and Ivrogbo-Irri Progressive Union (IPU).I would miss his phonetics and man full with wisdom in Isokoland.He was among those that used the media specifically to project IDU when it was then Isoko Union and the voice of Isoko nation was heard far away then Bendel State now Edo State. He translated English Language to Isoko Language for the world to recognize Isoko nation then. Pa Charles was creative, resourceful, brilliant, eloquent, energetic and intelligent to the core. Who would I call again if I have difficult on Isoko languages and Isoko history? Even at your sick bed, you still respond to my questions with answers to them.
You wrote a brief history of Ivrogbo-Irri and your name has become a gold in Isoko and Ivrogbo-Irri.2011 you were among the first people to receive Mindset media awards on excellence which your daughter,Cordelia Okpei represented you. One thing you cannot take away from Pa Charles is humility and commitment to God's works. You are mentor of mentors and sleep well daddy!
Adieu Papa
Mindset Media Limited
Godday Odidi