DStv, GOtv Subscribers To Watch President Buhari'svisit To Ogun For 40th Anniversary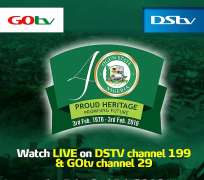 Lagos, Nigeria; 29 January 2016: MultiChoiceNigeria is bringing its DStv and GOtv subscribers yet another historic event in the month of February.
From Monday, 1 February to Tuesday, 2 February 2016, President MuhammaduBuhari will be in OgunState in commemoration of the State's 40th anniversary.This event will be aired live on DStv Events channel 199 and GOtv Events channel 29.
The channels will open from midnight 1 February, and will be available to DStv Premium, Compact Plus, Compact, Family and Access subscribers and GOtv Value and Plus and subscribers.
Subscribers can tune in to watch history unfold from the President's arrival on 1 February to lead the commissioning of 40 legacy projectsacross three senatorial districts in the state till his departure on 2 February.
For more information, visit www.dstv.com or www.gotvafrica.com