Supreme Court sacks Stella Odua, Andy Uba; Prince Emeka, Chris Uba to replace them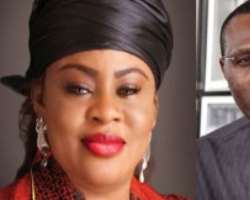 The Supreme Court in Nigeria has sacked two Senators Stella Oduah and Andy Uba, nearly two months after a third Senator from the state, Uche Ekwunife, was sacked.
A full panel of the court sitting in Abuja, on Friday, sacked the senators and members of the House of Representatives from Anambra State.
In a ruling on Friday the Court nullified the elections of both Senators.
To replace them, according to the Supreme Court, are Chris Ubah (Anambra South) and Prince Emeka (Anambra Central).
Chris Uba, younger brother to Andy Uba, and Prince Emeka are expected to take over seats vacated by  Andy Uba and Stella Oduah respectively.
Former Senator Annie Okonkwo is  favoured to represent the PDP in a forthcoming election to fill a senatorial seat held by Uche Ekwunife who was sacked last December by the Court of Appeal.
Today's ruling by the Supreme Court upheld an earlier decision by Justice Chukwu of the Federal High Court laying out the proper procedures for selection of the PDP's legislative candidates.
Oduah was a former Aviation Minister, who resigned her position to pursue her political ambition while Mr Uba was a former Special Adviser to former President Olusegun Obasanjo on Domestic Affairs.
The Independent National Electoral Commission had declared them winners after the Senatorial election held last year.
All the Senators from Anambra State, including Mrs Ekwunife, emerged on the platform of the Peoples Democratic Party.
On December 7, the Court of Appeal in Enugu nullified the election of Uche Ekwunife, as the Senator representing Anambra Central Senatorial District.
The court consequently ordered a fresh election within 90 days.
After the Appeal Court's order, Mrs Ekwunife defected to the All Progressives Congress (APC), with hopes of securing the ticket, after Senator Chris Ngige of the APC who was also vied for the position had been appointed Minister.
Anambra Central Senatorial district is regarded as one of the most keenly contested in the country having a former Governor Chris Ngige, the National Chairman of the All Progressives Grand Alliance (APGA), Chief Victor Umeh and of course Mrs Ekwunife.
In December 2014, the Federal High Court had ruled that it was only the constitutionally recognized state party leadership led by Ejike Oguebego that could organize the party primaries.
The Supreme Court's ruling today, reaffirmed the High Court's verdict, declaring that the Ejike Oguebego-led PDP executive had the sole right to hold the primaries in Anambra State.
-with online reports