ANTI-PARTY ACTIVITIES: WE'VE NOT RECEIVED ANY INVITATION —NNAMANI,WABARA, MASARI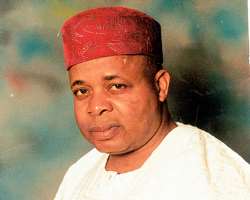 Also, the PDP's governorship candidate in the 2007 election in Abia State, Chief Onyema Ugochukwu, has denied receiving an invitation to the meeting, scheduled for Thursday (today).
Their position came even as Masari disclosed that the planned meeting of the PDP Reform Group scheduled for today in Abuja would go ahead, despite protests by the party's leadership and governors elected on the platform of the PDP.
The leadership of the party had said that the trio and 16 other members of the party were invited for alleged anti-party activities.
The party in a statement by its National Publicity Secretary, Prof. Rufai Alkali, had on Tuesday claimed that it was in possession of 'facts' linking the invited members to attempts to subject the party to disrepute.
Also listed among those expected to appear before the emergency NWC in Abuja on Thursday (today) include the a former governor of Rivers State, Dr. Peter Odili; Owelle Rochas Okorocha; Chief Tony Ukasanya; and Senator Adolf Wabara.
Also listed are Chief Sunny Iroche; Senator Azu Agboti; Senator Sylvanus Ngele; Senator Ifeanyichukwu Ararume; immediate past minister of Commerce and Industry, Chief Achike Udenwa.
Others invited are a former minister of Transport, Chief Abiye Sekibo; Alhaji Awal Tukur, erstwhile health minister, Prof. ABC Nwosu; and Mr. Kelechi Igwe.
Speaking in separate telephone interviews with our correspondent in Abuja on Wednesday, Nnamani, Masari and Ugochukwu said they were yet to be served with any invitation letter.
Nnamani, Wabara and Masari said they were ready to appear before the committee or any committee, if properly invited.
They wondered why they would be told through third parties that they were being invited by their party when officials of the party had their contact addresses.
Nnamani said, 'No invitation yet. I am ready to attend any meeting or appear before any committee, if properly invited; but as we speak, there is no official invitation yet.'
Wabara said, 'I'm yet to be invited. I will not go (to the NWC meeting). I cannot be invited on the pages of newspapers. The party has a constitution and it is very clear on things like this. It says we have to be given two weeks (to respond to the allegations). One needs a letter from the national chairman or the disciplinary committee. I respect my party a lot. If I'm properly invited, I will attend.'
According to Masari, 'I am not aware of any invitation or summons. The officials of the party know my house and office.
'So, if they have any invitation for me, they know where to bring it to. If I receive any invitation, I will be there.'
Ugochukwu told our correspondent that he was in Warri and that he was not aware of any invitation.
The NWC had claimed that it was in possession of facts linking some 'respectable members of our party with a scheme to subject our great party to disrepute, contempt and hatred.'
It said they and others had been meeting under the umbrella of the PDP Reform Group and were reported to be engaging or to have engaged in conduct likely to cause disaffection among members of the party or likely to disrupt the peaceful, lawful and efficient conduct of the business of the party.
They were also accused of engaging in anti-party activities by belonging to a group which was not provided for in the constitution of the party.
However, there were indications on Wednesday that the reform group would meet in Abuja on Thursday (today).
The invitation for the meeting, which was signed by the President of DAAR Group, Dr. Aleogho Dokpesi, said that 'very historical and momentous decisions affecting our great party shall be taken.'