EFCC arrests former Chief of Air Staff, Adesola Amosun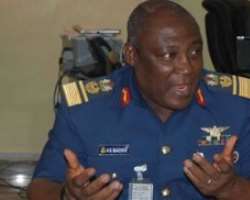 The immediate past Chief of Air Staff, Adesola Amosu was on Wednesday arrested by the Economic and Financial Crime Commission.
Although the reason for his arrest was not confirmed before press time, it is believed to be in connection with the ongoing investigation of $2.1 billion arms contract, which has engulfed many persons who were in the immediate past administration.
The former air force chief was picked up Wednesday night at about 9pm and has since been detained by the anti graft agency.
The investigation  of the arms deals by the EFCC  has opened into several dimensions, including some key officials of the Peoples Democratic Party and top brass of Nigerian military which was involved in the prosecution of the war against insurgency in the North East.
Amosu is one of the 21 former and serving officers who are said to be under investigative searchlight for their roles in the arms deal.
The Guardian cites its  top source at the EFCC as confirming  that Amosu is being detained to give vital information concerning the deals, especially with the contracts awarded, many of which were suspected to have been inflated.