Bishop Umunna: One Calling With Multiple Talents On The Pulpit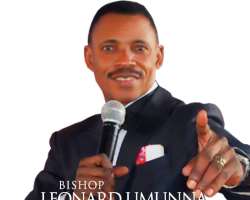 With the regular healing testimonies and miracles from the able servant of God in Ajegunle city, Bishop Leonard Umunna has pitched a tent in dramatic ministry for over 60 years, producing Christian movies in the Nigerian market. It has become a Christian national anthem in Bible Life Church Cathedral where every church service, there would be a drama presentation to propagate the gospel of Jesus Christ.
Bishop Leonard Umunna has become a world-class legend in producing best-selling Christian movies and spiritually growing up- and –coming stars in movie production. Talent creation is one core calling of Bishop Umunna using to nurture young minds for the heavenly race. Anybody that attends Bible Life Church Cathedral without developing one specific talent, it means such person is not a bonafide member. It is a ministry where elders are respected and ministerial priorities are given to them too.
Apart from the regular mammoth crowd that troop into the Bishop's office for counseling and prayers with instant answers, he is fast-becoming world-class consultant to mighty and low in the society. Those that give to the poor would never lack in life which Bishop Umunna has fully demonstrated over time.Every department of the church are effective with massive growing talents. His ministerial articulation on the altar is worthy to be emulated and singing good songs to glorify His presence has become a regular ritual. Bible Life choirs not only presenting good songs to the admirable congregation but also showcasing inbuilt talents in them in every church service.
The few that knows the spiritual worth of Bishop Leonard Umunna are gaining mentorial role in growing their passion in life.The likes of Nelson Brown,Alex Great Akhigbe popularly known as'Dr.Passion.Pastor Angela Ekpene-Umunna and others were birthed out from him. Mindset Media limited gradually reaching the global village is from a man that sells the good product of the vision, Bishop Umunna.At 63, our Lordship has made great ministerial legacies that cannot be ignored on earth. Learning new art of music has become a major assignment to fulfill in his life. All bundles of talents were all given to him by God without learning anyone. He remains the best and world-class Christian movie production in Nigeria. Anyone that wants to learn how to be heavenly best in acting needs to consult Bishop Umunna for refresher courses now.
Godday Odidi
Social Media Analyst
08058124798
Lagos
Disclaimer:

"The views/contents expressed in this article are the sole responsibility of the author(s) and do not necessarily reflect those of The Nigerian Voice. The Nigerian Voice will not be responsible or liable for any inaccurate or incorrect statements contained in this article."
Articles by Godday Odidi