Leonard Umunna: A Philanthropic Bishop With Appreciative Kindness To Humanity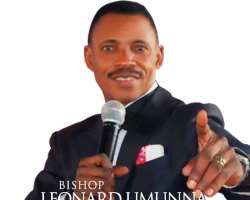 In Proverbs 28: 27 says 'He that giveth unto the poor shall not lack: but he that hideth his eyes shall have many a curse. This scripture is illustrating a man of God that has charitable love for the poor and appreciative spirit for his members in other person than Bishop (Prof) Leonard Nwaoma Umunna,the legendary Ajegunle Philanthropic clergy who has spiritually dedicated his life for humanity for 52 years on the pulpit and 62 years of age.
For any grassroots clergy to beat his spiritual records, it means such minister of God has equally learnt from his biblical trainings on gratitude over the years. Every Sunday service, the 10,000 sitting capacity has always been filled to the brim which many described as 'man of God that speaks with one calling with multiple talents on the pulpit'. The God that called Bishop Leonard Umunna to Ajegunle land never made a mistake to restore the glory of the community. His philanthropic love for the poor and church members with rewarding spirit could be traced to a man that admires integrity in ministry than wealth.
Among the anointed and charitable ministers of God in Nigeria, Bishop Leonard Umunna is singled out for humanitarian kindness for the poor. His ministry is not just appreciating faithful members but making people from nobody to somebody on earth and heaven. He has never seen defeat in ministry for 52 years and training of young minds to take over from him has become a major kingdom assignment. He does not take glory to himself than appreciating members that toiled with him day and night in the kingdom's assignment in recent past years. It is hard to see at least a Bible Lifer not benefitting from Bishop Umunna's philanthropic gesture in Life. The culture of giving to downtrodden has been learnt from His almighty maker over the years.
Today, Bishop Leonard Umunna's legacy is not only known in Ajegunle but well-known across the globe. His fame grew from grass to grace and his humility in God's kingdom cannot be ignored in the sands of time. He has able set up a brotherly love among all the Bible Lifers in Nigeria and beyond with institutionalized discipline and competent hands to handle church affairs. If any pastor that has humanitarian love for his members in Nigeria and Africa, Bishop Leonard Umunna is one of them. According to him, Bible Lifers make me, so I must replicate it to the world. He remains a sought after bishop with creativity.
Godday Odidi
Social Media Analyst
08058124798
Lagos
Disclaimer:

"The views/contents expressed in this article are the sole responsibility of the author(s) and do not necessarily reflect those of The Nigerian Voice. The Nigerian Voice will not be responsible or liable for any inaccurate or incorrect statements contained in this article."
Articles by Godday Odidi