FG to make N66.1bn from stamp duty in 2016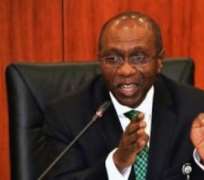 The Federal Government is aiming to generate an additional N66.1 billion revenue in 2016 from an imposed stamp duty of N50 on bank customers for money received into their accounts.
This direction was given by the Central Bank of Nigeria (CBN) Governor, Mr Godwin Emefiele, while speaking with newsmen after the Monetary Policy Meeting on Wednesday in Abuja.
NAN reports that the 2016, 2017, 2018 Medium Term Expenditure Framework and Fiscal Strategy Paper as captured in the 2016 Budget under the non-oil revenue section, shows that the Federal Government projects to make N66.1billion in 2017 from stamp duty alone.
Emefiele said that the Federal Government was exploring opportunities in the banking sector as part of efforts to boost its revenue base through taxes and rates
"There are currently various options the government and the economic team are looking at as ways to boost non-oil revenues and stamp duty is one option.
"The numbers are there in the budget about what we expect to generate from stamp duties in 2016.
"We will try as much as possible, working with the banks to ensure that all transactions are captured in a way that ensures that for transactions above N1,000 and above, each of those transactions get debited for N50.
"We have not dimensioned it yet; I believe in due course, Nigerians will begin to know what this will translate into.
"But we believe that it will help the efforts of the government in improving its revenue."
The CBN had recently reintroduced the policy, as contained in the Stamp Duty Act, 2004.
The banks have since been directed to collect the duty from their customers and remit it to the Nigerian Postal Service Account at the CBN.
The charge is on all transactions by a bank or financial institution in respect of deposits and transfers worth N1,000 and above.
However, it doesn't not apply to self to self-transactions whether intra or interbank and it also exempts transfers and withdrawals involving salary accounts and savings accounts, used by majority of low income Nigerians.
-Emmanuel Ikechukwu