Pres. Buhari seeks stiffer penalty for money launderers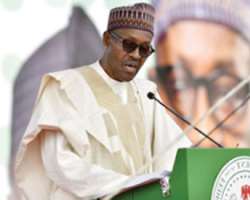 President Muhammadu Buhari on Wednesday introduced two bills to the National Assembly to strengthen the war against money laundering. The bills were titled, 'The Money Laundering (Prevention and Prohibition) Bill, 2016' and 'The Mutual Legal Assistance in Criminal Matters Bill, 2016.'
The Senate President, Dr. Bukola Saraki, read the letter containing the bills at plenary on Wednesday while at the House of Representatives, the Speaker, Mr. Yakubu Dogara, read Buhari's letter conveying the bills to members.
Buhari in the letter stated that the first bill sought to repeal the existing Money Laundering Act, which was enacted in 2011 to provide for stiffer penalty for money launderers to discourage the illegal act.
On the second bill, the President explained that its aim was to make provisions that would enable Nigeria to seek international assistance in recovering looted funds. Part of the letter read, 'This bill seeks to facilitate the provision and obtaining by Nigeria of international assistance in criminal matters, including the provision and obtaining of evidence and things, the making of arrangements for persons to give evidence or assist in criminal investigations, the recovery, forfeiture or confiscation of property in respect of offences…'
The Money Laundering Prevention and Prohibition Bill, he stated, 'seeks to make comprehensive provisions to prohibit laundering and the criminal activities, expand the scope of money laundering offences.
'It seeks to provide protection for employees of various institutions, bodies and professions who may discover money laundering and enhance customer due diligence.
'It provides appropriate penalties and expand the scope of supervisory bodies. It also recognises the role of certain self-regulatory organisations to address the challenges faced in the implementation of comprehensive anti-money regime.'
Other issues that the proposed law will address, according to Buhari, are, 'the execution of request for search and seizure, the location and identification of witnesses and suspects, the service of documents and other matters connected herewith.'
According to Buhari, the Bill is expected to provide the framework for other countries to assist in provision and obtaining of evidence, making of arrangements for persons to give evidence.
The bill, he added, also 'seeks to get international assistance in criminal investigations, recovery, forfeiture or confiscation of property in respect of offences.'
He said the proposed law also sought assistance in 'the restraining of dealings in property or the freezing of assets that may be recovered, forfeited or confiscated in respect of offences.'
Meanwhile, the House of Representatives has advised the Nigerian Electricity Regulatory Commission to put its planned February 3 hike in electricity tariff on hold.
The House of Representatives ad hoc committee investigating over-billing and other activities of distribution companies arrived at the decision after a joint meeting with NERC and the Nigeria Electricity Consumers Advocacy Network.
A statement on Wednesday by the Chairman of the committee, Mr. Jimi Benson, on the outcome of the meeting, noted that while NERC and the Discos supported tariff hike, NECAN opposed it. However, he said the parties later reached a common ground.